Peak Korolev. Western Kokshaal-Too.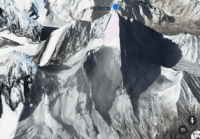 Peaks in upper reaches of Chon-Turasu River Kokshaal-Too range.
"Mountaineering begins where the paths end, and does not end even at the top, because it's not enough to go up, you also have to go down. On the descent of a climber, severe trials are often guarded."
Nikolay Tikhonov.
Climbing peak of Korolev in Western Kokshaal-Too range.
Sergei Korolev Peak (former name Tourist) with a height of 5816 meters above sea level is located in the mountains of Western Kokshaal-Too in the At-Bashinsky district of the Naryn region. The snow-ice peak has three ridges: - eastern, northwestern and southwestern.
The eastern ridge, 1.4 kilometers long, ends at the Chon-Tyuskuyruk glacier, 4.6 kilometers long. The Chon-Turasu Vostochny glacier, 6 kilometers long, descends from the northern slope of the peak. The northern part of the southwestern ridge of the peak is represented by a sheer wall almost 600 meters high.
The northwestern ridge breaks off to the west for 850 meters, almost 500 meters into a wall. Sergei Korolev Peak is located in a meridional ridge 15 kilometers long, which goes north from the main ridge of the Western Kokshaal-Too ridge.
The ridge is located between the sources of two rivers: in the east - the Chon-Tyuskuyruk river and in the west - the Chon-Turasu river. Korolev Peak is located 4.7 kilometers northeast of Alpinist Peak, 5462 meters above sea level.
7.6 kilometers southwest of the Koroleva Peak is Dankov Peak, 5982.3 meters above sea level. 6.6 kilometers to the west of the peak of the Korolev is the peak of Dzholdash peak (Chon-Turasu) with a height of 5729.1 meters above sea level.
6.5 kilometers to the south-west is Molodyozhny Peak (Friendship) with a height of 5330 meters above sea level. 10.2 kilometers northwest of the Korolev Peak is the Kaliningrad Peak, 4,730 meters above sea level. 7.8 kilometers southwest of the Korolev Peak is the Maron Peak, 4902 meters above sea level.
First ascent to peak of Korolev in Western Kokshaal-Too ridge.
1969.
The first ascent of the north-western wall of the Korolev Peak was made in the summer under the leadership of Levon Alibegashvili. It was the first sports climbing team that visited the Chon-Turasu gorge. The expedition of climbers of the Moscow region was organized by the Moscow Regional Sports Council and the Committee for Physical Culture and Sports of the city of Kaliningrad, Moscow Region.
Team composition: A. Korsun - captain, V. Penchuk - deputy captain, V. Gladchenko, E. Korenev, Valery Kremena, A. Kurshin, O Fedorov, and A. Yanochkin, Levon Alibegashvili, Stas Okhrimenko, L. Vorobyov.
Geographic coordinates of Peak Korolev: N41°04'59.07" E77°46'01.02"
Authority
Alexander Petrov.