Panel Star of poetry in Dushanbe.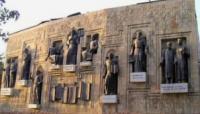 Trip to Dushanbe.
"There is not a single tooth in the mouth.
They have faded for a long time.
But the teeth were the lights in my golden days.
Like silver, like pearls, they sparkled then,
Like pearls of rain, like a bright morning star.
But they fell out, crumbled, gaping with a failure of the mouth,
Or is this the wrath of Saturn and the vengeful account of time?
No, this is not the fury of Saturn, not the revenge of the protracted years.
So what?
Hear the truth: that is the covenant of the eternal gods.
Our world revolves forever, its nature is
Such is the law of the universe: the cycle of nature.
The medicine calms the pain, it heals the disease,
ut it will become a source of pain, which is given to us as a medicine."
Abulhasan Rudaki.
Panel of Star of poetry in Dushanbe.
The panel Stars of Poetry is installed on the facade of the House of the Union of Writers of Tajikistan located on Ismoil Somoni Avenue in Dushanbe. Monument to famous writers of the East and the present. The panel depicts 11 figures of Tajik and Oriental poets and writers who worked both in the early Middle Ages and in the Soviet period.
The panel presents to the attention of the audience sculptural images of such poets as Omar Khayyam, Sadriddin Aini, Abu Abdallah Rudaki and Mirzo Tursunzade. The sculptures are made of bronze and set in recesses, supported by special cornices with names engraved on them.
In the center of the composition there is a bas-relief in the form of an open book, on which inscriptions are made in Farsi and Tajik. Next to the panel are such sights of the Tajik capital as the hotel "Tajikistan", the building of the Palace of Nations and one of the largest flagpoles in the world, on which the national flag of Tajikistan flies.
Geographical coordinates of Panel of Stars on facade of House of Union of Writers of Tajikistan in Dushanbe: N38°35'01.45" E68°47'00.37"
Authority:
ourist guidebook on monuments of Dushanbe. 2012.