Palace Arbob.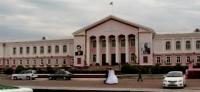 Architectural monuments of Khojend.
In Tajikistan one of achievements of an architectural idea of XX century - Palace Arbob. It was constructed by simple farmers. Twice Hero of Socialist work Saidkhodja Urunkhodjaev supervised over works.
A palace have erected on hill Arbob, from here and the name of a complex. Built it 7 years all world inhabitants of three settlements. Artworks were done by four best masters of republic during four years. 
Walls and ceilings of a building are painted by bright patterns. In them it is reflected four elements - water, fire, air and the ground. Here and motives of cotton fields, wheats, grapes and other fruits of this ground.
To furnish inside of premises of the master have applied carved ганч. All 8 small and one big halls are decorated by national ornaments. Exhibits are stored In one of halls of a palace from a study and a photo of chairman of collective farm.
It chapan, a white shirt, tybeteika. Here pictures Urunkhodjaev both with dekhans, and with cosmonauts are exposed. Many known people were familiar with it. In days of Urunkhodjaev dekhans from its facilities have been awarded high ranks of Heroes of Socialist work.
After disintegration of Soviet Union Tajikistan has gone through civil war. When the situation in republic was very complex, the destiny of people was solved in this palace. Here the sketch of a flag of independent republic has been shown.
Palace Abob more known as Urunkhodjaev though has grown old, but amazes with the scope. Tens columns, lusters, about hundred rooms and about two hundred the windows, the refined internal furnish of ceilings.
All this is constructed by a method «khashar», people who received some kgs of wheat though on its erection the collective farm of a name of Voroshilov over which supervised Saidkhodja Urunkhodjaev, has spent more than $1 million
 In Palace Arbob for the work conducts the long avenue decorated by nine fountains in the form of tulips. Then you are "met" Lenin's with monument with a cap in a hand. For the leader the big two-level ferro-concrete fountain with six greater bowls and 27-th colors in the form of a clap and four peacocks begins.
Under the project water here should flow from other cascade fountain located above. He is decorated by strange birds, cups for wine in the form of the horns, decorated color         mosaic and white swans.
Authorship:
http://www.news.tj/ru/newspaper/article/tainy-dvortsa-arbob Aurhor: Bakhtier Valiev, Asia-Plus