Oyyl River.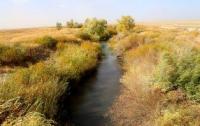 Tourism in Kazakhstan.
"There is nothing more inventive than nature.
"The wisdom of nature is amazing, which, with such infinite variety, has managed to equalize everyone!"
                 Erasmus of Rotterdam.
Silk Road Adventures in Almaty.
The Oyyl River originates from a spring on the Ural-Emba plateau and ends among the litters, salt marshes and many lakes in the sand massifs of Biiyruk and Taisoigan in the Aktobe region. The length of the river is 800 kilometers, the catchment area is 31.5 thousand square kilometers.
The width of the river is from 14 to 80 meters, the depth is from 0.5 to 3.0 meters, the flow velocity is up to 0.2 meters per second. The water is fresh. The bottom is viscous and sandy, there are many shallow (from 0.6 to 0.8 meters) fords with a sandy bottom.
The banks are usually low, gentle, but steep on the bends of the river (the height of the cliffs is from 2 to - 8 meters). The floodplain is open, up to 0.5 - 1 kilometer wide. The river valley, in places up to 4 kilometers wide, is cut up by drying out riverbeds and elders.
Authority:
A.G. Isachenko, A.A. Shlyarnikov. The nature of the world. "Landscapes", Moscow, "Thought",1989.
Photos
Alexander Petrov.