Kobda River.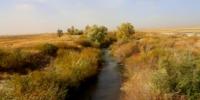 Flower Tours Aktybinsk region.
"Flood meadows, blue river -
A real miracle of nature
My heart without you always gnawing longing,
I love you, as in previous years."
Anatoly Bolutenko.
Wildlife Tours Aktybinsk region.
The Kobda River - the largest left tributary of the Ilek River (the Ural River basin) is formed from the confluence of the Big and Small Kobda rivers. originates in the western spurs of the Mugodzharsky mountains, flows to the northwest along the Podural plateau in the Aktobe region of Kazakhstan, the mouth on the border of the Orenburg region.
The river is 225 km long, 10 - 15 meters or more wide, 0.8 - 3.5 m deep, 0.2 m / s flow velocity, sandy or viscous bottom. The name of the river is supposedly derived from the toponym of Mongolian origin: for comparison, the Mongolian "kobo", "kovoo" - pothole, pit, ditch.
The floodplain is not wide, open, overgrown with meadow vegetation and reeds. The banks are mostly low, only steep in some areas. The average annual runoff in the upper river is 30 mm.
Authority:
A.A. Chibilev. "The Ural River." Leningrad. Hydrometeoizdat, 1987.
Photos
Alexander Petrov.