Mystical town Khiva.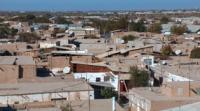 Places of interest of Khiva.
"Once Hodge took the grain to the mill. Standing in line, from time to time he poured grain from foreign bags into his own. Miller noticed this and asked:
- Shame on you, Molla, what are you doing?
"I'm kinda crazy," said Hodge, confused.
- If you are crazy, then why do not you pour your grain in other people's bags?
"Eh," Hodge said, "I said that I was crazy, but I didn't say that I was a fool ..."
100 stories about Khoja Nasreddin.
Trip from Nukus to Khiva.
Khiva until quite recently, this legendary city was a major centre of Muslim theology. In 1990 the inner city of Khiva Ichan-Kala was taken under the UNESCO protection to preserve and protect its unique history.
Khiva is a walled city of ancient architecture. The fortress wall commands a panoramic view of a city which seems to have come straight from an Arabian nights tale. The capital of the Khiva Khanate in the XVII century , Khiva has retained the exotic flavor of a medieval Oriental town.
All the monuments of ancient architecture are located in the old part of the city Ichan-Kala. But Khiva is an upstart; although it looks like medieval Bukhara. The object of some of the most intrepid overland kpeditions of the XVIII and XIX centuries, Khiva was then the most remote and is nowe most complete of the old Silk Route's oasis cities.
Its walls are intact. The Tash Khauli palace has the finest painted ceilings in Central Asia. The Friday mosque is the strangest and most alluring in Uzbekistan. Yet Khiva is still probably more famous than it deserves.
It is merely the last in a 2000-year line of Khorezmian capitals, most of them dissolved by the continually shifting Amu Darya, some still tantalizing sun-frazzled archaeologists with their gaunt hilltop ruins.
The greatest of these cities was Kunya Urgench, the centre of the Muslim world before the Mongol invasion, when Khiva was nothing. Even in the XVIII century Khiva was 'hardly more than a nest of caravan-robbers hidden behind the formidable barriers of the desert'.
The world knew little about it, so excitable trav­ellers' tales built it into a fearsome power. And it behaved like one, knowing little of the rest of the world. Khiva prospered, like her predecessors, as the last great oasis on the northern caravan route to Russia. In particular she thrived on trade in Russian slaves and on their labour.
But her wealth was translated into the fabric of a city only in the XIX century-and this is Khiva's fascina­tion. The real miracle here is one of inertia, not preservation. The general appearance of Central Asian cities hardly changed in the 400 years before the Russians came, and there is no more impressive monument to this extraordinary stasis than Khiva.
Authority:
«Khiva city and legends» the tourist guidebook across Khiva".
Photos
Alexander Petrov.