Khiva town.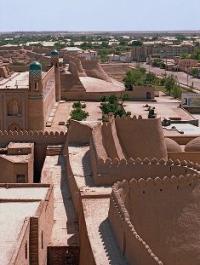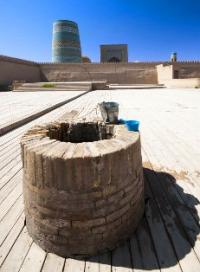 Excursion trips across Khiva.
"Once Hodge took the grain to the mill. Standing in line, from time to time he poured grain from foreign bags into his own. Miller noticed this and asked:
- Shame on you, Molla, what are you doing?
"I'm kinda crazy," said Hodge, confused.
- If you are crazy, then why do not you pour your grain in other people's bags?
"Eh," Hodge said, "I said that I was crazy, but I didn't say that I was a fool ..."
100 stories about Khoja Nasreddin.
Photo Gallery of Khiva.
Legend has it that Khiva was founded when Shem, son of Noah, discovered a well. The town certainly existed by the VIIIth century, as a minor fort and trading post on a Silk Road branch Caspian Sea and the Volga.
In the early XVIth century Khiva was made capital of the Timurid Empire, becoming a busy slave market and pivot of the khanate of the next three centuries. Until Russia finally wrested the region from the Timurid grasp in the XIXth century, even the boldest hearts feared encounters with these fierce tribesmen and their desert territory.
Hours Khiva, situated in the Kyzylkum desert, is the ultimate destination, along the former Silk Road. Depending on your schedule and home comfort preferences, a trip to Khiva makes for a one-day rushed excursion, or to experience a more holistic impression, one needs to find accommodation within the inner City.
Here in the Southern part of Khiva lies the inner City, or Ichan-Kala. This fort, which also served as a trading post and the largest slave market, is an epitome of a barbaric past. Slaves were maliciously incarcerated, after having made a long and hard journey through the steppe and desert. The initial trading of wares along the Silk Road spaned from the Caspian Sea to the Volga. 
Arrival at the fort is at the West Gate, where after paying an entrance fee, in Soum, you will be offened the services of a guide and the chance to buy local souvenirs. If you have a map, you can easily spend the whole day, meandering within the 2.2km-walled town.
Early morning and late afternoon, escaping the midday heat, allow travelers to make their way from medrassah to minaret appreciating the historical value at a leisurely pace. In 1970, the Soviet transformed ancient Khiva into a reconstructed living museum. Many masterpieces have been rebuilt, leaving a pristine, though ancient ambience.
Circumnavigated by 40 custodial bastions, the city allows you access to a former glimpse of pre 8lh century lifestyle. 4 ornate wooden gates, still hang from each cardinal point of the compass.
Unlike Samarkand and Bukhara, Khiva's architectural monuments of towering minarets, madrassahs and mosques are mainly embraced within the walled city, boasting the most number of minarets in Central Asia.
The Pahlavon Mahmud's mausoleum, with its proverb-embossed tiles, the Jummi Mosque with over 200 intricately carved wooden columns, the Kalta-Minor minaret dating back to 1835 and the majestic 45 meter Islam Khoja minaret are broad appeal for those visiting Khiva.
After climbing one of the spiral staircase minarets, from which the mullah calls the 40 000 population to prayer one can stop to catch ones breath whilst taking in a panoramic view of the city.
When your feet refuse to cooperate any further, pause a while to watch the locals, as this inner city continues to operate as a daily trading post. At the Eastern gate a typical bazaar follows every day life to the full.
From here you can gain access to walk along part of the wall, where you can look down onto typical clay baked houses with flat roofs offering a glimpse of how life endured in centuries past.
Morning and evening are the best times to see Khiva. The town's highlights include the fat, turquoise-tiled Kaita Minor minaret, the Kukhna Ark fortress, the 218 wooden columns of the Juma Mosque, the sumptuously decorated Tosh-Khovli Palace, the Islom-Huja Madrasah and its lighthouse-like minaret and the exquisitely tiled and highly revered Pahlavon Mahmud Mausoleum.
Frequent buses bump and grind between Urgench and Khiva. Urgench is a handy 16 hours by bus west of Tashkent; flying cuts journey time to three hours. The easiest way to get to Khiva from Tashkent is via Air Uzbekistan with twice daily flights arriving in Urgench.
Urgench is a mere 35kms from Khiva, and easily accessible via awaiting taxis outside the city's airport, when the magnetic needle points towards West the skyline transforms into a fusion of blue, green and gold coloured antiquity.
This is the perfect time of day to take those treasured photographs with lengthening shadows and glistening concentric rings of majolica tiles, Khiva is at her best. Khiva is famous not only for its architectural splendour, but also for its national craftsmen.
The Kutlug-Murad-lnak Madrasah is the first two-storied madrassah in Khiva having the same form as madrassahs in Bukhara, but without the usual
Today the madrassah functions as The Centre of Development of Khiva, a notional craftsman's market and tourists delight. All the Khorezrnian crafts are displayed under one roof. The following can be discovered: Ceramics - Raimbay Matchanov, a 7th generation artist, precisely replicates ceramics with old traditional Khorezmian techniques.
He embellishes original compositions and ornamental designs ot large rosettes, decorative medallions and folklore creativity onto decorative light-blue ceramics. Many have made their way to private collections. Both father and his son Odilbek, can be contacted on: +998(62)3947138.
Puppets - the head of the Centre Rustam Kuryazov, is a talented miniatures and graphic arts together with Mukhtar Yusupov, they have been creating amazing puppets for more than 10 years.
Created from paper-mache, each doll has its individuality, character and national attire. Utilising nature to its full extent, the artists use sheep's wool for hair and locally picked flowers, fruit, and roots to obtain classic colouring for the faces. The puppets are a collector's item, as well as being used for children's theatres.
More detailed information: +998 (62] 3754679, 3761990, 3758342.
Miniatures - miniatures are painted onto natural materials of sik, leather and bark. The leather compositions are either strung across branches, or cleverly stretched across ceramic plates. Kuranbay Matmuradov tel: +998 (62) 3324291.
Water Colours - of architectural monuments of the old city, traditional scenes and local inhabitants. He will paint your portrait on the foreground of a noteworthy Khiva setting. A novel personalized purchase. Komildjon Bobodjanov tel: +998 (62) 2253414.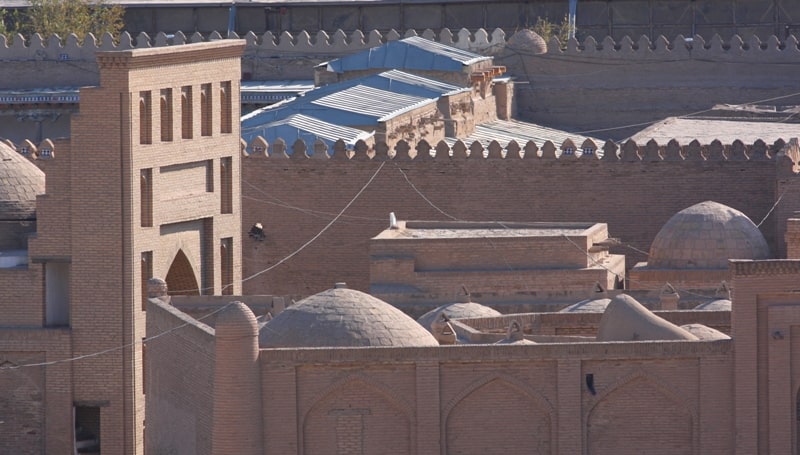 Authority:
http://www.discovery-central-asia.com
Photos
Alexander Petrov.