Mushketov Glacier. Valley Adyrtor.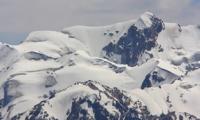 Popular glaciers of Kyrgyzstan.
"Nature abhors annihilation" 
Marcus Tullius Cicero.
Tour - travel to Kyrgyzstan. 
The valley, tree-like Mushketov glacier is located in the upper reaches of the Adyrtor valley, in the northeastern part of the Central Tien Shan mountains in the Aksu district of the Issykk-Kul region. The length of the Mushketov glacier is 21 kilometers, its greatest width in the central part is 1.1 kilometers.
The origins of the glacier begin from the western slope of Ignatiev Peak, 5488 meters above sea level, with an area of ​​68.7 square kilometers. His the firn area lies in a huge circus with high (up to 1.5 kilometers) steep sides.
The tongues of glacial tributaries flowing into the main glacier from the northern slope of the Sarydzhaz ridge are bordered by moraines and have a characteristic "lion's paws" appearance. The feeding area lies in a huge circus at an altitude of 4500 - 5500 meters above sea level, the firn line is at an altitude of 4100 meters above sea level.
The tongue of the glacier ends at 3424 meters above sea level (11.2021). The lower part of the glacier is covered with moraine for 5 kilometers. Until 1956, the glacier retreated, and the ice of its lower part was practically stationary, but by August 1957, the end of the glacier had rapidly advanced 4.5 kilometers.
At the same time, its surface for several kilometers from the end was covered with a dense network of cracks, and the tributaries of the lower course were dammed. Since then, the end of the glacier has receded (Osmonov, 1974).
In the western part of the Sarydzhaz ridge, small valley tarn glaciers and slope glaciers prevail. In the basin of the Inylchek River, the left tributary of the Sarydzhaz River, there are 198 glaciers with a total area of ​​946.1 square kilometers.
The glacier was named after the outstanding Russian explorer Ivan Vasilyevich Mushketov.
Geographic coordinates of the Mushketov glacier: N42 ° 18'02.73 "E79 ° 54'27.86"
Authority:
"Glaciers." L.D. Dolgushin, G.B. Osipova. Series "Nature of the world." Moscow, the publishing house "Thought". 1989.
Alexander Petrov.
Photos by
Alexander Petrov.