Monument of Vinogradov Almaty.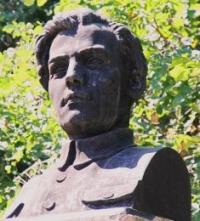 Jeep expedition to Asy plateau.
"Anyone who knows from childhood that labor is the law of life, who from childhood understood that bread is obtained only by perspiration, is capable of achievement, because on the right day and time he will have the will to fulfill it and the strength to do this"
Jules Verne.
A trip from Almaty to the village of Narynkol.
The monument to Pavel Vinogradov was erected on Vinogradov Street in November 1956. In Pavel Vinogradov was named and the street. Sculptor of the monument B.I. Urmanche. In the 1990s, the street was renamed Karasai Batyr.
Pavel Vinogradov studied at a teacher training institute in St. Petersburg, where, having established contact with the workers of the Putilov plant, he entered into a revolutionary struggle. The tsarist government sent him to the Tomsk province, from where he fled to Verny in 1913, where he worked as a teacher and organized an underground circle from the revolutionary-minded intelligentsia.
The members of this circle conducted propaganda work among the poor, peasants in villages and villages. In the summer of 1915, Pavel Vinogradov was arrested and sent to the front. In March 1918, he returned from the front and joined the work of the Vernensky Council and was soon elected its chairman.
Then he was chairman of the Council of Workers', Peasants' and Soldiers' Deputies, chairman of the city party committee, chairman of the Vernensk district-city council. In March 1919, he was a delegate to the 8th Congress of the RCP (B.).
In 1921 - 1927 he worked as a responsible educator in Tashkent. Last years he lived in Alma-Ata. On December 30, 2011, the Government of the Republic of Kazakhstan adopted Decree No. 1672 "On the Deprivation of the Status of Monuments of History and Culture of Local Importance of the City of Almaty and their Exclusion from the State List of Monuments of History and Culture of Local Importance".
On July 17, 2012, the bust of P.M. Vinogradov in Almaty was dismantled and transferred to the square at the Sary-Ark cinema.
Authority:
Kazakh Soviet Encyclopedia, 1983 3. Set of monuments of history and culture of the city of Almaty Ch. Editor B. G. Ayagan, 2006.
Photos
Alexander Petrov.