Monument of Tsoi in Almaty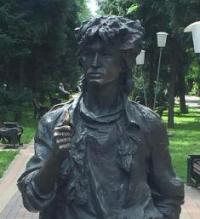 Short description of tours in Kazakhstan.
"Music shows a person those possibilities of greatness that are in his soul"
Emerson W.
A trip from Kazalinsk to Almaty.
Monument to rock musician Viktor Tsoi, on the corner of Tolebaev and Kabanbai batyr streets - the final scenes of the film "Needle" were filmed here. The monument was unveiled on June 21, 2018.
Viktor Robertovich Tsoi (June 21, 1962, Leningrad - August 15, 1990, near the village of Kesterciems, Tukums district, Latvian SSR) - Soviet rock musician, songwriter and artist. The founder and leader of the rock band "Cinema", in which he sang, played the guitar and was the author of songs.
In addition, he also starred in several films. The best actor of 1989 according to the magazine "Soviet Screen". Viktor Tsoi was born the only child in the family of engineer of Korean descent Robert Maximovich Tsoi and physical education teacher Valentina Vasilievna.
The musician's childhood passed in the vicinity of Moscow Victory Park: he was born in a maternity hospital on Kuznetsovskaya street (located inside the park; now it is a cardiology center), the family until the 1990s. She lived in a remarkable "general's house" on the corner of Moskovsky Prospekt and Basseinaya Street (now it is an architectural monument).
For some time, Victor studied at a nearby school on Frunze Street, where his mother worked. Choi knew English quite well despite the fact that he studied German at school. In 1973, Tsoi's parents divorced, and a year later re-married.
From 1974 to 1977, Choi attended a secondary art school, where the group "Ward No. 6" emerged, headed by Maxim Pashkov. After being expelled for poor progress from the V. Serov Art School, he entered SGPTU-61 to become a woodcarver: Tsoi professionally cut netsuke figures from wood.
In his youth, he was a fan of Mikhail Boyarsky and Vladimir Vysotsky, later - Bruce Lee, whose image he began to imitate. He was fond of martial arts and often fought "in Chinese" with Yuri Kasparyan.
Authority:
https://infourok.ru/otey-batir-istoriya-kazahstana-2986341.html