Monument of Pushkin in Almaty.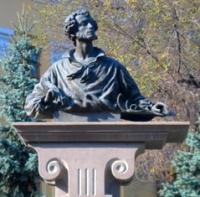 Visiting monuments of monumental art in Almaty.
"In literature, everyone strives to discover or invent something, and whoever cannot invent poetry invents poets"
Christian Friedrich Goebbel.
A trip from Zharkent to Almaty.
Monument-bust of monumental art to the great Russian poet A.S. Pushkin (1799 - 1837) was erected in the park (eastern side of the building of the Presidium of the National Academy of Sciences of the Republic of Kazakhstan) on October 29, 1999 in the Medeu district of Almaty.
The author's work of the sculptor Anatoly Bichukov with the participation of the creative team was installed on the street of the same name, near the fountain "Oriental Calendar" at the building of the Academy of Sciences of Kazakhstan.
This is a crowded place that Almaty residents and guests of the capital choose to relax. Architects T. Eraliev, A. Anchugov. The opening of the monument took place on October 29, 1999 in the year of the 200th anniversary of the poet.
By UNESCO's decision, 1999 was declared the international year of Alexander Sergeyevich Pushkin in connection with the 200th anniversary of the greatest poet of world literature. The bust monument was cast in bronze at one of the Almaty plants.
Literature:
Panfilov monument. Encyclopedia "Almaty". Editor-in-chief R.N. Nurgaliev. Almaty, 1996. Mitko M. "Do not be silent, bell!". "What They Didn't Talk About" Ed. E. Satybaldieva). Alma-Ata, publishing house Zhalyn, 1990. Matveeva L.A., Proskurin V.N. "Monument - a bust of I.V. Panfilov. " "Monuments of history and culture of Almaty". Catalog of documents of the Office of Archives and Documentation and TsGA of Almaty. Almaty, Oner Publishing House, 2003. Proskurin V.N. "Transports-Almaty residents." The book "Alma-Ata courtyards." Almaty, 2002
Authority:
Vladimir Proskurin (Berlin.)
Photos
Alexander Petrov.