Monument Batygai (Tatygai).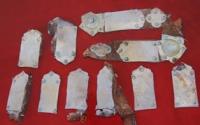 Booking tours in Astana.
"Does progress mean that we dissolve our ancient myths? If we forget our legends, I fear that we shall close an important door to the imagination" 
James Christensen.
By cars from Astana to Kokshetau.
Description: Archaeological Monument Batygai (Tatygai) - X-XII centuries (mausoleum and settlement) is known since XIX century. Author and constructor of the mausoleum are unknown, locations is near Korgalzhym village, Akmola oblast.
The mausoleum is included into the list of the national monuments based on the Resolution of the Council of Ministers of Kazakh SSR "On national historical and cultural monuments of Kazakh SSR" as of 26 January 1982, No. 38.
In 1974 on the mausoleum there were excavation works by the Central Kazakh Archaeological Expedition of the Science Academy of Kazakh SSR (A.Margulan). Materials are kept in "Kazproyektrestavratsiya" Institute.
Another archaeological expedition was organized in 2000 by the Eurasian National University of L.Gumilyov. Excavations revealed the brick platform surrounding the mausoleum (size is 21.0 x 17.4 m). Excavations provided not many but unique for this area carved terracotta stalactites with the geometrical and plantation ornament.
The upper layer at the top is severely destroyed during the establishment of the triangulation point. The hill has almost ideal oval shape. Average diameter is around 30 meters. The height reaches up to 2 meters.
Severe destruction of the mausoleum does not allow setting the parameters of the building. Historical information: For the first time the monument was described in 1816 by I.Shangi (mining engineer, head of the military-topographic expedition in Kyrgyz steppe).
The foundation area is Nura River. In the essays of the ambassadors from Russia F.Skibin and M.Troshin under the title "Kazakh Horde" who came to Tauke-Khan it is written that between Korgalzhyn Lake and the khan's residence on the riverbank of Nura there is a town named Batygai.
According to the witnesses, this was the crossing point of many caravans on the Great Silk Road. In 1762 in Petersburg the book "Composition of the Councillor of Emperor's Scence Academy, Peter Rychkov" was published. It also contained some information about Batygai.
Authority:
http://www.kazakhstan-tourist.isd.kz