Mausoleum of Niyaz bi.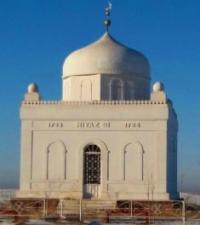 Traveling in nature of Akmola region.
"Talent and knowledge are bright lights, without them there is no outcome from the darkness"
Rudaki Abu Abdallah Jafar.
A trip from Schuchinsk to Atbasar.
The Niyaz Biya Mausoleum is located in the village of Taitobe, Tselinograd district of Akmola region. Researchers associate the story of Akmola with a white monument erected on the grave of Niyaz Biya. The ancient Kipchaks, now inhabiting the Turgai Valley, arrived at the end of the XVIIIth century at the direction of Niyaz and Kenzhetai biev.
Descendants of Niyaz - Aydaraly, Baidaly, Zhaksylyk, Aydarbek, Baygozy. His father Tileuli Batyr headed the united Kipchak groups, became one of the Abylay Khan warriors, showing heroism and courage in such famous battles as Anirakai, Kalmakkyrgan, Kalakum.
Between the two Saryarka rivers - Ishim and Nura - in the plain land there is no higher land than Taitobe. If you climb to the top of your head, then you can see everything in the palm of your hand. Nura turns from the East with the right side to Tytobe and then goes directly to Korgalzhyn.
If you look at this clearing from a bird's flight, you can see that Taitobe, penetrating the river on one side, looks like a peninsula. Thus, Taitobe is a natural fortress that is open only from the west. Therefore, all the medieval local burials, especially the khans and sultans, were protected from brutal attacks.
Here is the mausoleum of Niyaz Biya. Niyaz took an example from the great batyrs, biys, and, having matured, began to rule the people and rightly ruled those who lived on the banks of Ishim, Nura, Atbasar, and the environs of Karaotkel.
He preached such qualities as courage, unity, solidarity, fidelity and humanity.
List of used literature:
"Dalanyk dara dillmarlar", Almaty: Kazakhstan LLP, Baspa Uyi, 2001, 592 pp.
Authority and photos:
http://srh.kz/content/mavzoley-niyaz-bi/