Mausoleum of Maral Ishan.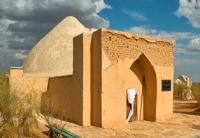 FAM trip Kazakhstan and Central Asia.
"Maral Kurmanov was not at all a" false prophet "or" inspired from above ", but a separatist-dreamer, who stood out from the crowd of ordinary Kirghiz not so much by his mind as by the spirit of exclusivity, he planned to carry out a major reform of the everyday and political life of his people and to implement his plans he chose a convenient time - a time of turmoil and strife ... He was imbued with a sincere desire for good for his people, but for the model of his reformatory actions he took the ideal of Mohammedan isolation, alien to the nature and habits of peaceful and good-natured nomads"
Major General Nikolai Osipovich Kraft (1798 - 1857).
 "Last summer in the Middle Horde there was one similar named Morall, who preached about various miracles, predicted the imminent enslavement of the Horde and many misfortunes." According to the sources, "Kyrgyz people from different volosts came to Maral Ishan, whom he persuaded, in order to leave the connection with Russia, to unite as people of the same land"
Fedor German.
Sacred monuments of Kazakhstan.
The Maral Ishan mausoleum is located at the Ishankamar cemetery, northeast of the sands of Beisenbaykum in the Karmaksha district of the Kyzylorda region, 14.5 kilometers to the east just north of the village of Zhosaly and 14 kilometers north of the village of Abyl.
The Karaozek channel is located 5.6 kilometers south of the Maral Ishan mausoleum. he mausoleum was made as a small copy of the mausoleum of Khoja Akhmet Yassaui. The dome of the mausoleum is pointed with a small hole.
In general, the mausoleum is homogeneous, without any external design. The facade of the building is oriented to the south-east. The height of the wall is 2.8 meters, the dome is 3.5 meters. Next to the memorial complex there is a guest house, where there are rooms for prayer and lodging.
The memorial complex is located at the burial site of Maral Ishan. Nearby is the mazar of the son of Maral Ishan Kalkay Ishan, the grandchildren of Ospan Ishan, Tobagabyl Ishan, Kaus Ishan and Amit Ishan. In May 2018, the restoration work of the mausoleum was carried out.
Mausoleum Maral Ishan is included in the register of sacral monuments of history and culture of local importance in the Karmaksha district of the Kyzylorda region.
Geographic coordinates of the Maral ishan mausoleum: N45 ° 31'02.04 "E64 ° 16'27.45"
Authority and photo:
ttps://3d-maps.kz/en_place_411-mavzoley-maral-ishan
Alexander Petrov.