Mausoleum Kamysbai.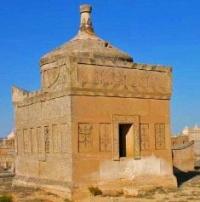 Excursions in Mangystau.
"The sculptor must express the state of mind in his works"
Socrates.
Visit to mausoleums of Mangystau.
The Kamysbay mausoleum is located in the southern spurs of the Eastern Karatau ridge, in the southeastern part of the Kamysbay necropolis, 12.8 kilometers southeast of the Shetpe village, 13.8 kilometers west of the Onda village in the Mangistau district of the Mangistau region.
The Kamysbay necropolis dates back to the XVIIth - XXth centuries. Since the XVIIIth century, the Kamysbay necropolis has been a cemetery of the Adai clan. The area of ​​the Kamysbay necropolis is 3.9 hectares. It includes 450 monuments, including 60 large mausoleums, among which is the Kamysbay mausoleum.
The necropolis is called Kamysbai Toleke uly (1722 - 1785) whose burial is one of the oldest on its territory. The mausoleum above his grave was built of stone slabs using a simple masonry technique on clay mortar.
The main facade is faced with polished well-fitted slabs, the surface of the other facades is smoothly finished after the walls have been laid. The walls of the facades have no special decor, except for the main one, which is designed in the form of a portal.
The entrance is framed by a slightly recessed arch-shaped niche; a number of small niches are arranged along the surface of the facade, imitating lancet-shaped windows. In the upper part of the portal, there is a belt imitating figured brickwork on the cornice.
Also, on both sides, there is a preserved base from a protruding belt that crowned the portal. The chamber of the mausoleum is covered with a dome made of roughly worked stone slabs using the false vault technique; the rows of masonry are gradually shifted in relation to the lower ones, narrowing in diameter.
The conical shape was given by subsequent surface treatment. In connection with the outlined collapse of the mausoleum, restoration work is required. In front of the Kamysbay mausoleum, a large space opens with burials marked with stone layouts, as well as koitases, multi-stage gravestones and kulpytases covered with rich ornamental flat-relief carving.
Geographic coordinates of the Kamysbay mausoleum: N44 ° 04'01.60 "E52 ° 15'35.36"
Authority:
Andrey Astafiev. Aktau town. "The Code of Monuments of the Mangystau Region".
Photos by
https://www.wmf.org/