Mashad-Masrian mosque.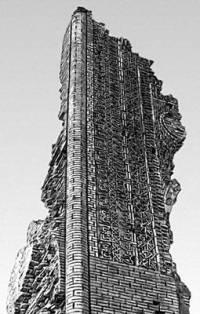 Trips on mausoleums and mosques of Dekhistan.
Mashad-Mestorian (or Mashhad-Misrian). The desert area in western Turkmenistan. Medieval settlement Dahistan, a city that existed at the beginning of the X - XIII century, then in the XIV - XV centuries. (now only a part of its territory), then in connection with the decline of irrigation in its life was extinguished.
Rectangle covered fort ramparts, marking two rows of old walls and moat. Inside and outside the fortifications are visible traces of neighborhoods, industrial and residential buildings, caravanserai, places of worship, as well as a vast cemetery of Mashad, where stands a few mausoleums.
The city existed in the IX - XIV centuries. Its total area was about 200 ha, the city was surrounded by a double ring of defensive walls. Like most cities of its epoch, it was divided into well - fortificated shakhristan with citadel (the most ancient part of the city) and rabad around it (a densely populated trade quarters with bazaars and caravanserais).
Shakhristan was protected with two rows of high fortress wall with semicircle watch - towers. Pottery and brick - burning kilns, khanaka, country mosque, garden - park erections and bazaar square, typical of the eastern medieval cities, were marked around the city wall.
The tribes, which occupied this territory, went in for agriculture based mainly on artificial irrigation and cattle - breeding. Three caravanserais were discovered on its territory. Public buildings and erections, reflecting the social tenor of the feudal age, take a special place in the Dekhistan look and structure.
Authority:
On materials of information department of the State committee of Turkmenistan on tourism and sport. "Religious and spiritual monuments to Central Asia". Author M. Hashimov. Saga publishing house, 2001.