Makhtuma mausoleum.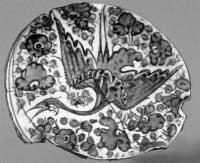 Walk by car across Turkmenistan.
"I hate those who hate God, but it seems to me that God hates insufficiently those who hate me"
Butler S.
In the valley of the river Sumbar, near the regional center Cara-Kala is Makhtum's mausoleum, construct  of the burned brick.
This rectangular oblong building has funeral room, noted by the portal focused on the East, and wings with two tiers khudzhr and arch loggias.
Spiral staircases in poles of the portal conduct on the second tier.
The mausoleum with a drum is blocked by a dome which envelope is dismembered so that the type of 16 final stars is formed.
Construction is dated the XVth century.
Authority:
"Religious and spiritual monuments to Central Asia". Author M. Hashimov. Saga publishing house, 2001