Masdjidi Djami a mosque.
Fam tour across Khudjand.
Masdjidi Djami the mosque in Khudjand is constructed in 1912 - 1913. Its scheduled composition is original. Multicolumned aivan consisting from 30 Columns adjoins east wall of a winter hall which also consists of 20 columns, and passes in a courtyard of a mosque.
On street Shark the southern wall of a mosque without any apertures is turned. Only on the right on edge of a wall, there is an entrance device darvoz-khona with deep peshtak - a portal.
The arrangement of columns in a mosque is subordinated to a modular grid: on aivan six numbers on four columns (30 modular squares), and in a winter premise - five numbers of columns on four repeat.
Two average columns on northern facade aivan are trimmed by a groove on all height and bear the raised part архитрава with the massive type-setting stalactites which have saved the rests of a list.
At an input and above mikhrab three board squares of a ceiling are painted, but paints have strongly darkened also a part were showered. Walls are covered by a good carved decor, on advantage of geometrical motives. Both doors of a winter hall differ a thin graceful groove.
The building frame with sun-dried earth brick filling and the subsequent plaster clay a solution is constructive. Intervals between a skeleton are used for the device of niches and mikhrab, both in a winter hall, and on aivan.
A roof of a mosque flat earthen with loam. The base on which walls of a building cost, is laid out from burnt a brick. The courtyard of a mosque with east and partially with northern the parties is limited one-storeyed khudzhr.
In a northeast part of a court yard the minaret with the traditional lantern issued by arch apertures rises, пре the red panorama of city whence opens. The entrance portal turned in the street Shark, differsencaustic tile facing and carved clay a panel on a facade.
The high portal represents only obverse decorative wall from burnt a brick, added with sowing. The parties sun-dried earth brick constructions in two floors with wooden aivan above.
A carved gate of a portal are executed in 1913 - 1914. In decorative furnish of a mosque took part mullo Mansur (list), usto Shamsiddin (a groove on clay), etc. the
Mosque as a whole has surprisingly harmonious image and the magnificent sample of synthesis of decorative art and building culture of Khudjand represents.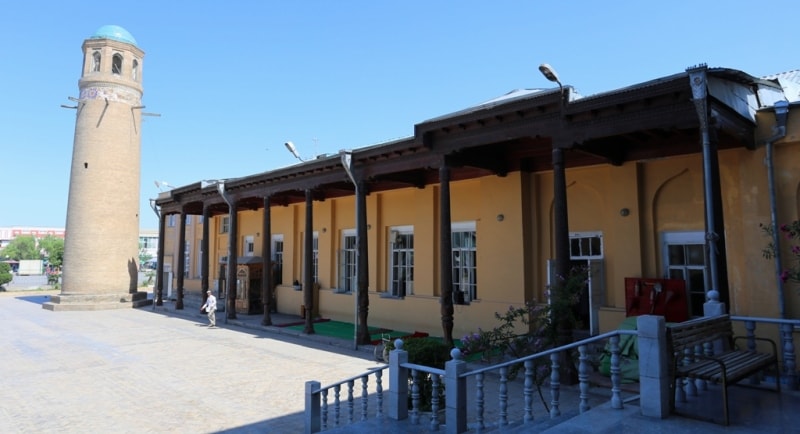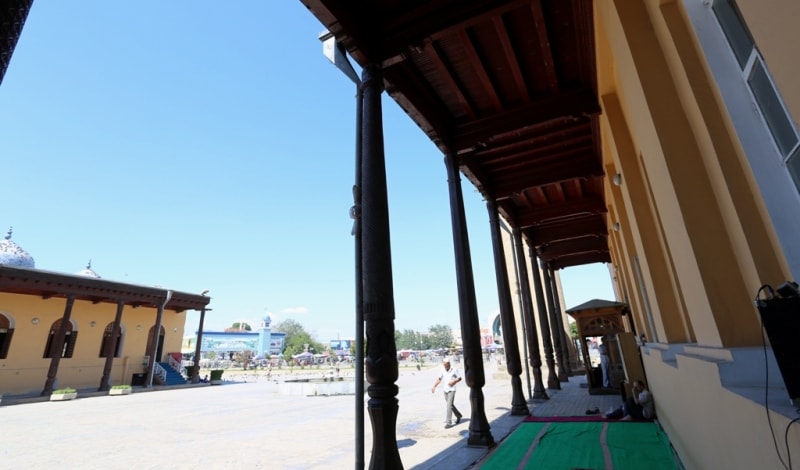 Authorship:
The Tourist guidebook on monuments of Khudjand. 2012.
Photos
Alexander Petrov.