Maloulbinskoe reservoir.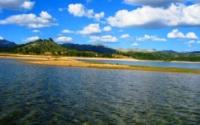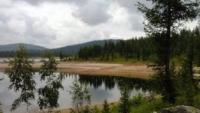 Trip to Maloulbinskoe reservoir. 
"There she is, taiga!
Like to the shores
Waves of noise are beating.
Wind surf
That rings a trumpet
That buzzes gloomily.
Into your wilderness, taiga
E will pass the leg -
Here the trunks are not rare.
They can't be separated,
And there are friends
Clasping hands-branches"
Saken Seyfulin. "Taiga". 1925. Translation by V. Vinogradov.
Trip from Ust-Kamenogorsk to Maloulbinskoe reservoir. 
From the Malo-Ulba reservoir, located on a plate-like concave bowl among the mountains of the Ulba ridge, the Malaya Ulba River flows, flowing slightly above Ust-Kamenogorsk into Ulba. The reservoir is located on the Malaya Ulba River, water is discharged into the Levaya Gromotukha River (one of the components of the Gromotukha River).
The level mark of the reservoir is 1612 meters. The reservoir regulates the flow in the interests of the entire cascade of hydroelectric power stations. Since the 30s of the last century, the lake was considered a strategic object, and an armed post blocked the road to it.
The water area with a length of 25 kilometers and a capacity of 60 million cubic meters was considered a reserve reservoir of water for Ridder and Ust-Kamenogorsk. Eighty kilometers of the road from Ridder to the mountain plateau were built shockingly, but not very reliably.
The path was paved with a Shkoda steam excavator that worked on wood and coal. For two years, this wonderful technique went to Malaya Ulba, 80 kilometers of this road are separated by a reservoir with three dams. Two hold the shore from the side of Ridder, one more from the side of Ust-Kamenogorsk.
The artificial Maloulba reservoir began to operate in 1936. The date says a lot - the construction was carried out mainly by the hands of prisoners of the Stalinist camps. In Ridder, many families still remember elders' stories about how "enemies of the people" were taken from neighboring villages according to the order.
All three dams, according to local residents, are paid for by the lives of tens and hundreds of prisoners of the Gulag. The lake opens from the pass only at the edge of the water area. Not far from the shore there is a house in which the commandant's office was located, and a concrete punishment cell for convicts.
The most grandiose construction of the reservoir is a 34-meter dam, holding a bowl with 60 million cubic meters of water over a large gorge. The gorge goes to the channels of Malaya Ulba and Gornaya Ulbinka, flowing not far from Ust-Kamenogorsk to the Ulba river.
The embankment holds the shore, facing from a height of 2016 meters to the regional center.
Authority:
Galina Vologodskaya, the journalist of the newspaper "Caravan".