Lake Korzhun. Dzungarian Alatau.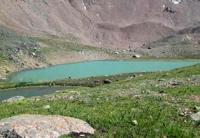 Lake tour in mountains of Dzungarian Alatau.
"What is contrary to nature never leads to good."
Friedrich Schiller.
Best adventure tours in mountains of Dzungarian Alatau.
The moraine, flowing lake Korzhun is located at an altitude of 3368 meters above sea level, located in the upper reaches of the western tributary of the river of the same name, on the southern slope of the Dzhungarsky Alatau ridge in the Eskeldinsky district of the Almaty region.
The area of ​​the large lake West Korzhun is 100149 meters, the perimeter of the lake is 1487 meters. The length of the lake from southwest to northeast is 557 meters, the width in the central part of the lake is 288 meters.
On the border of the western part of the lake in the glacial cirque there is the Korzhun glacier consisting of two branches. The southern branch of the Korzhun glacier is 930 meters long. The area of ​​the southern branch of the glacier is 298592 square meters and the perimeter is 2221 meters.
The glacier closes the western, upper part of the glacial valley. The glacier flows down to the eastern slope to the lake from an unnamed peak 3793 meters above sea level. In the northwest, 350 meters from the lake, there is the northern branch of the Korzhun glacier, 800 meters long.
The area of ​​this glacier is 431724 square meters, the perimeter is 2636 meters. To the east of this glacier there are three small moraine lakes. The lake, located 300 meters east of the lake, has a length of 150 meters.
A river flows out of the eastern part of the lake, which, after 6.9 kilometers, flows into the Korzhun River on the left. 3100 meters southeast of Lake Korzhun there is a moraine, flowing lake West Korzhun at an altitude of 3433 meters above sea level.
Geographic coordinates of Lake Korzhun: N44°56'01.88" E79°35'19.20"
Authority:
Alexander Petrov.
Photos by
Sergei Mikhalkov, Almaty city.