Lake Izbushka West.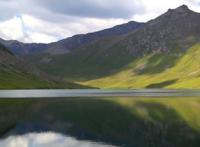 Gorges in Bayankol valley.
"How to make a dream come true?"
Principle one: be born a traveler and realize your childhood dream, travel through the mountains and forests.
Principle two: find like-minded friends - the same travel lovers.
Principle three: the initiative is in your hands, do not wait for travel offers, organize it yourself.
Principle four: while traveling, be active and curious, try to get maximum geographical knowledge about the area you are traveling through.
Principle Five: Share your travel experiences with your friends, try to make a good presentation or write an essay.
Principle six: do not stop there, plan a new trip"
Drive to Bayankol gorge from Almaty.
Lake Izbushka West is located at an altitude of 3583 meters above sea level, located in the upper reaches of the Izbushka gorge, which adjoins the Bayankol gorge on the left, on the northern slope of the Terskey Alatau ridge in the Narynkol district of the Almaty region.
The lake is located in the upper reaches of the river of the same name. The length of the lake from south to north is 136 meters, the maximum width is 154 meters. The perimeter of the lake reaches 516 meters, the area is 13683 square meters.
n the north, the lake is bordered by a moraine, which with its northern part descends into the lake. The northern shores of the lake are gentle, overgrown with plants of the alpine zone. Lake west is located 537 meters east of East Lake. There is no visual flow of water from the lake.
Geographic coordinates of West Izbushka Lake: N42 ° 29'21.17 "E80 ° 01'36.66"
Authority and photos by
Alexander Petrov.