Ice arena in Ashgabad.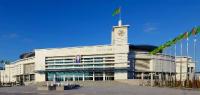 Whistle-stop trip in Ashgabad.
"The national Olympic sports palace" - the ice arena on 1000 places in the southern part of the city of Ashgabad on Archabil Avenue. It is open on May 18, 2006. It is intended for sports ice hockey, figure skating competitions.
The area of the building is about 8 thousand square meters. At present in the arena all Ashgabat hockey clubs and group of figure skating train. The president of Turkmenistan Saparmurat Turkmenbashi ordered to build the ice arena in the desert of the foothills of Kopetdagh.
"Let's build the ice arena - majestic and big, capable to accommodation one thousand people", - told the Turkmenbashi. - "Our children can learn to ski, we can construct cafe and restaurants there".
In 2006 the company of Bouygues finished construction of the first Ice arena. Members of the government, deputies of Majlis of Turkmenistan participated in the opening ceremony of the Ice arena.
Heads of the ministries, departments, public organizations, heads of the diplomatic missions accredited in Turkmenistan, athletes, pupils of capital higher education institutions and schools.
For participation in the opening ceremony to Ashgabat the group of the famous figure skaters from France among whom the vice-world champion of 2006 Bryan Joubert was invited. At the present moment in the palace the Ashgabat ice-hockey teams and the ice hockey national team of Turkmenistan hold games and trainings.
Body of sport center is the ice arena which corresponds by the sizes to the hockey platform of the European standard (60 by 30 meters). At the same time 150 people can skate. The tribune accomodates 1000 viewers. In a complex there is a shop on production of ice, a workshop for sharpening of skates, rental center of sports equipment and a garage for cars on care of ice with installation on a snow refire chamber.
Authority:
On materials of information department of the State committee of Turkmenistan on tourism and sport.