Gulf of Turkmenbashi.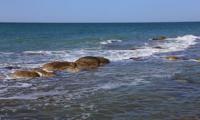 Unique sights of Turkmenistan.
"The land moved to the place of the sea and the sea to the place of land in ancient times..., only the elite can delve into these phenomena"
Abu Reyhan Mohammed ibn Ahmed al-Biruni. Khorezm, 973. - Ghazna, 1048.
Nature of Balkan velayat.
Gulf of Turkmenbashi, the former Krasnovodsk Gulf (Turkmenbashi aylagy) is located in the southeastern part of the Caspian Sea. It is separated from the sea by Krasnovodskaya and Northern Chelekenskaya by low sandy spits.
From the east, the Darja peninsula protrudes into the bay, separating the Balkhan Bay to the north, and the North Cheleken Bay to the south. The length of the bay is 46 kilometers, the width at the entrance is 18 kilometers, the depth is up to 5 - 6 meters.
The area of ​​Turkmenbashi Bay is 1500 square kilometers. In the center of the bay there is a group of drained islands. There are no permanent currents in the bay. The shores are indented by numerous bays and bays, of which the largest are the Northern Cheleken and Balkhan bays, as well as Muraviev and Soymonov bays.
The town and port of Turkmenbashi is located in the Muraviev Bay, located to the west of the Ufra peninsula. The salinity of the water in the bay is 12.8 - 14%.
Geographical coordinates of Turkmenbashi Bay: N39°53'22.85" E53°10'24.37"
Authority:
http://www.caspianmonitoring.ru/
Photos by
Alexander Petrov.