Esenguli Flatland.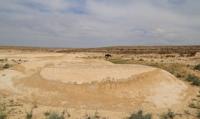 Gasan-Kuli Flatland in Turkmenistan.
"I am a slave of love, a Gauquelin from Atrek,
I'm looking for an enchantress.
A teacher in the wilderness of the century,
I'm looking for a gift of peace."
"Seeking salvation." Translation by A. Tarkovsky. Makhtumkuli.
Journeys along lakes of Esenguli Flatland.
Esenguli Flatland (former Hasan-Kuli Flatland) is located in the south and southeast of the Messerian Flatland in the Balkan velayat in the very south of Southwestern Turkmenistan. The young surface of the deltaic plain of the Atrek River stretches as a wide strip in the very south of Southwestern Turkmenistan along the border with Iran at absolute elevations below 10 meters.
On its flat plain surface, there are hillocks elongated in the sublatitudinal direction east - northeast - west - southwest with steep slopes and a convex top, reminiscent of Baer. Their height generally does not exceed 10 - 12 meters, and the length is 2 - 3 kilometers.
From the surface they are composed of sandy deposits. To the west and southwest, together with the surface of the delta, they decrease from 1 - 2 meters above sea level to 7 - 10 meters below sea level. The surface of the delta in the west has marks from -15 to -20 meters.
It is also characterized by saline depressions with bottom marks in the south-west from - 24 to - 25 meters. Extremely primitive takyr-like saline land soils are developed within the plain, with areas of takyr saline land and typical saline.
In closed depressions there are meadow saline soils. Partially, the soils are cultivated, as they are used for cotton crops, vegetable gardens and orchards.
Geographical coordinates of Esenguli Flatland (former Gasan-Kuli Flatland): N37°25'05.94" E54°13'57.53"
Authority
http://www.caspianmonitoring.ru/
Photos by
Alexander Petrov.