Gromotukha river on Altai.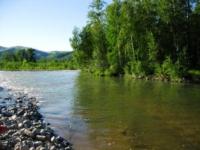 A trip to the Gromotukha River.
"Not a uniform Siberian lowland, from the North Ocean to the Irtysh and from the Urals to Altai, devoid of any relief and not representing any mountain uplifts or rock outcrops in its immeasurable space, nor the region of Siberian Kyrgyz faithful to the same type from Irtysh to Chu and from Ishim to Balkhash, rich only in low mountain elevations, far reaching the limits of eternal snow, they cannot stop the special attention of the geographer and geologist-traveler. her self and the expedition can be only high mountain country, issued outside of eternal snow and represent the greatest variety of terrain, geognostic structure, irrigation, climate and so on"
Semenov Tian-Shansky. Letter after the end of the Tien-Shan expedition.
Rafting on the Ulba River in Kazakhstan.
Gromotukha River - belongs to the mountain river basin in the north of the East Kazakhstan region. It flows near the city of Ridder. When merging with the Tikhaya River, it forms the Ulba River.
It originates from the southern slope of the Ivanovo ridge and the northwestern slope of the Ulba ridge from numerous rivers and streams with the names Right and Left Thunder.
A part of the Malaya Ulba river flow is transferred to the upper reaches of the river, and the Khariuzovskaya and Tishinskaya HPPs of the Leninogorsk cascade are located on the lower reaches of the river.
Authority:
Planet of adventure.