Gravity site of Duisen biy.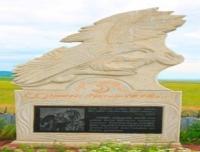 Architecture of Kazakhstan.
"He who is old cannot blaze with young fire"
Ibn Sina.
Monuments of Nur-Sultan and Kazakhstan.
Location: Aidarly village, Zerendinsky district, Akmolynsk region. Brief information: Duisen biy lived in the XVII – XVIII centuries. Famous hunter of the Karauyl clan, orator, a man of the people – Duysen biy son of Esenberli, native of the village Koshkarbai of the Zerendinsky district of the Akmola region.
Early in life, he was blessed by older, well-known biys. Duysen biy, who lived on the lands of Kokshetau at the beginning of the XVIIth century, communicated with many famous people of that time, including Kanai and the vociferous Kazybek biy.
Aksakals and written sources told about him as a wrestler and defender of the Kazakh lands.  His father participated in popular unrest between the Kipchaks and died due to wounds. Duisen biy was vested with power, he resolved various disputes within the ulus at the state level.
He was a friendly man and thought about the future peaceful coexistence of the Kazakh lands of the three zhuzes. He was a fair biy, orator, judge, who solved internal problems of the people. During the invasion, the Dzungar called for stubborn resistance and proved himself as a leader with great organizational skills.
After the death of his father, Uncle Maila began his further upbringing. But besides his uncle, Kazdauysta Kazybek biy played a major role in the life of Duysen biy, and he received Kanai biy's lessons concerning the wisdom of life.
Duysen biy was close to Abylay Khan, has managed to show himself as a competent and decisive person, could easily find solutions in difficult situations, gave wise advices, was a talented commander. In many songs, Ukilyi Ybyrai specifically mentions the name of this person.
At one time, Duisen biy helped his relatives and friends, uniting them and offering them to live in the vicinity of Mount Koshkarbai, thereby making a great contribution to their well-being.  His descendants became famous people of the region, country, their works were evaluated in dignity.
In Turkestan, a capsule with the ground was taken from the burial place of Khazret Sultan and installed in the Zerendi district in a place called Aydarly.
Authority:
Stories of local aqsaqals. http://srh.kz/content/mesto-zahoronenie-dysen-bi/