Gorge Tash-Rabat.
Walking in gorge Tash-Rabat.
"What is that feeling when you're driving away from people and they recede on the plain till you see their specks dispersing? - it's the too-huge world vaulting us, and it's good-bye. But we lean forward to the next crazy venture beneath the skies" 
Jack Kerouac, «On the Road».
Popular vacation destination in Naryn.
Tash-Rabat gorge is located at an altitude of 3964.8 (Tash-Rabta pass) to 2783.2 (the mouth of the Tash-Rabta river at the confluence with the Karasu river) meters above sea level, located on the northern slope of the Atbashi ridge in the Atbashi district of the Naryn region .
The length of the gorge is 25 kilometers, it starts from the Tash-Rabat pass and ends with the valley of the Karasu River. At 11 kilometers from the beginning of the sources of the Tash-Rabat River, on the left bank of the river, there is a caravanserai of the same name.
Starting from the pass, the gorge becomes narrow and continues like this until the Tash-Rabat tract. In the vicinity of the Tash-Rabat tract, the gorge expands. A grader road was laid from the Naryn-Torugart pass to the Tash-Rabat tract.
Tash-Rabat River flows through the gorge, with a length of 29 kilometers from its sources from the Tash-Rabat Pass to its confluence with the Karasu River. The Tash-Rabat River consists of the main channel, and in the vicinity of the Ta-Rabat valley, the right tributary Jamart flows into it, which originates from under the Jamart pass 3624.5 meters high above sea level. Also, another small tributary, the Akjag River, which originates from the eastern slope of the gorge, flows into the tract.
There are two waterfalls on the Jamart River, which you can visit if possible. Through the Tash-Rabat pass from the gorge you can take an interesting walk to the Chatyr-Kol lake. The distance from the tract where the caravanserai is located to the pass is 11 kilometers.
There are several yurt camps for tourists in the gorge, the jailoo for grazing is more than 20,000 hectares. Residents of the At-Bashinsky district bring thousands of cattle here for summer grazing. Near the Tash-Rabat caravanserai there is a house where a shepherd's family lives all year round, who looks after the architectural and historical monument.
To the Tash-Rabat gorge, 10 kilometers from the Naryn-Torugart highway, on the eastern side, the Muztubulak mountain range adjoins with a dominant height of 4029.7 meters above sea level. On the western side, the Kosykushtau mountains adjoin the gorge with a dominant height of 3848.6 meters above sea level.
Geographical coordinates of Tash-Rabat gorge: N40°50'14.48" E75°17'45.00"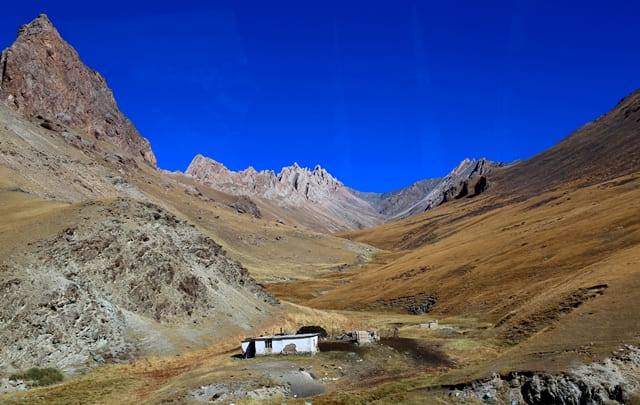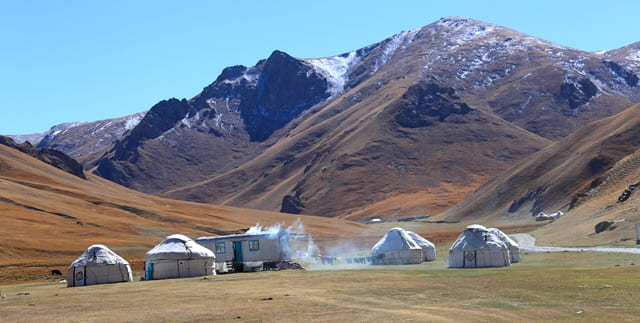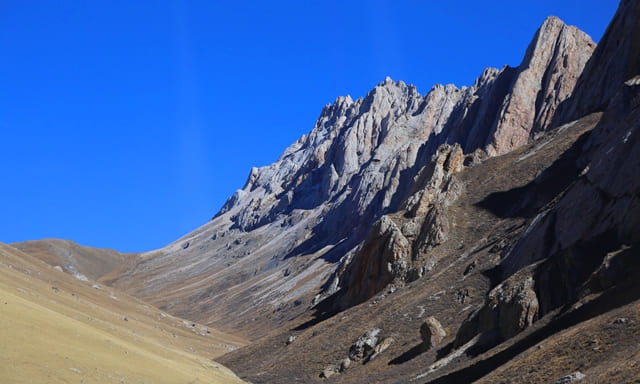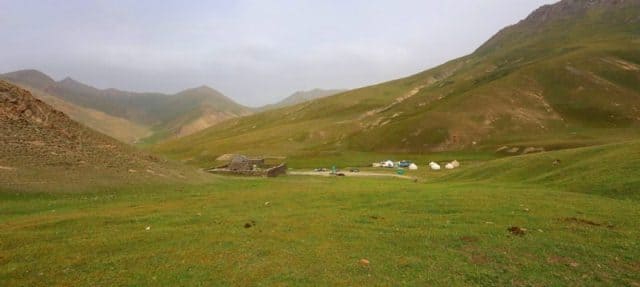 Authority and photos
Alexander Petrov.