Dankov Peak.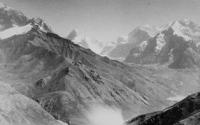 Peaks in Western Kokshaal-Too ridge.
"How many words and hopes, how many songs and themes
The mountains awaken us - and call us to stay! -
But we are going down - some for a year, some at all, -
Because we must always return."
Vladimir Vysotsky. «Farewell to the Mountains.»
Climbing Dankov peak.
Dankov Peak (Kirg. Dankov Chokusu) is located at an altitude of 5982 meters above sea level, it is the highest point of the Western Kokshaal-Too ridge in the Naryn region. The summit, folded by shale and limestone, is named after the head of the geodetic expedition who worked here on compiling detailed maps of the Russian Empire; according to another version, it is named after one of the military topographers who surveyed the area in 1910 - 1911.
The summit is located in the Dzhurek gorge, 5.5 kilometers from the state border of the Kyrgyz Republic with the Republic of China. The summit, covered with eternal snow and glaciers, is located in the crest of the ridge, which departs from the main dominant ridge of the Kokshaal-Too ridge to the north.
The southern slope of the summit is ice-rocky, the northern slope is an ice-rock wall, which breaks off to the sources of the Uzengegush glacier. Dankov peak is located 4.2 kilometers northwest of Alpinist peak 5462 meters above sea level, 5.1 kilometers northwest of Molodezhnaya (Druzhba) peak 5330 meters above sea level and 8.2 kilometers at northeast of the Kosmos peak, 5940 meters above sea level.
The climate in the region is sharply continental. The weather can change suddenly. The alpine zone ends at 4000 meters above sea level. The best time for climbing is from mid-July to mid-September.
History of the ascent to the Dankov peak.
The first ascents in the mountains of Western Kokshaal-Too were made in 1934 by a group led by August Letavet. The mission of the expedition was to explore the eastern part of the ridge and search for a breakthrough in the Uzengegush River.
In the upper reaches of the gorge, the members of the expedition climbed the Maron peak, 4904 meters above sea level.
The first ascent to Dankov peak was made in the summer of 1970 by Kazakh climbers, a traverse was made: Chontura (false peak) - Dankov peak - GOELRO peak 5B, consisting of Yuri Cherepinsky (leader), M. Akimenkov, G. Gulnev, L. Kiselev, Y. Popenko, Y. Yuzhakov (Karaganda) (Enbek society).
Geographic coordinates of Dankov Peak: N41 ° 03'34.12 "E77 ° 40'55.76"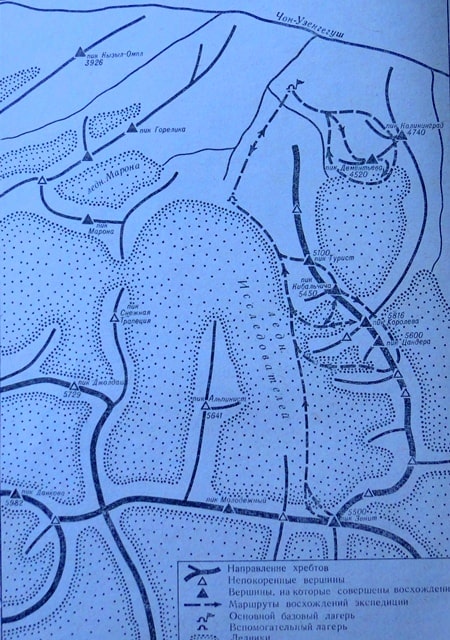 Authority:
Alexander Petrov.