Glaciers of Karabatkak.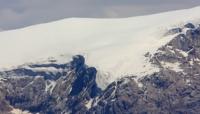 Travel across Kyrgyzstan to Tajikistan.
"We travel, some of us forever, to seek other states, other lives, other souls" 
Anaïs Nin. "The Diary of Anaïs".
Travel across Kyrgyzstan mountains.
The Karabatkak glacier, with a length of 3.5 kilometers and an area of ​​4.5 square kilometers, originates in three chamber parts of the glacier with a flat and wide bottom. The glacier feeding area is separated by an icefall about 100 meters high.
Below the icefall, the surface of the glacier levels out. Power of ice is 50 - 80 meters. The end and left edge of the glacier are covered with moraine. Between the terminal moraine there is a lake, the drain from it is filtered through the moraine.
This glacier is the main object of stationary research. From 1960 to 1979, the average annual accumulation on it was 117 grams per centimeter square, ablation - 215 grams per centimeter square, mass balance -30.2 grams per centimeter square.
Of the 20 years of observation, only 5 years were with zero and a small positive mass balance, the rest with a negative one (Fluctuations, 1985). On the glaciers of the Chon-Kyzyl-Suu river basin and on several other glaciers of the northern slope of the Terskey-Ala-Too ridge, the speed of ice movement was measured.
On the Karabatkak glacier, they amounted to 11.5 meters per year, on the Ashutor glacier - from 3.4 to 9.8 meters per year, on the Aylam glacier - 15 meters per year.
Authority:
"Glaciers." L.D. Dolgushin, G.B. Osipova. Series "Nature of the world." Moscow, the publishing house "Thought". 1989.
Photos by
Alexander Petrov.