Glacier of Jaman-Su.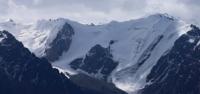 Kyrgyzstan and Silk Road Tours.
"In books I have traveled, not only to other worlds, but into my own" 
Anna Quindlen.
Budgetary tours in Kyrgyzstan.
The Jama-Suu Glacier, with a length of 10.4 kilometers, an area of ​​35.0 square kilometers, located at an altitude of 3400 to 5040 meters above sea level, belongs to the Sary-Jazz River Basin.
The Jaman-Su glacier descends to the lowest altitude on Ak-Shyirak - 3545 meters above sea level.
The lower end of the glacier digs into erratic moraine deposits. From 1912 to 1959, the glacier retreated 1300 - 1350 meters.
The retreat was accompanied by flattening of the surface and separation of tributaries.
Authority:
"Glaciers." L.D. Dolgushin, G.B. Osipova. Series "Nature of the world." Moscow, the publishing house "Thought". 1989.
Photos by
Alexander Petrov.