Chugundor-Kufen monument.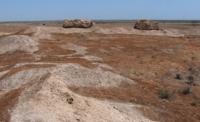 Main tourist attractions in Turkmenistan.
The historical monument Chugundor the town of Kufen is situated about 2 kilometers from the railway station Baba Durmaz. Oval in the shape, the town was surrounded by walls and a moat. The walls were 6 km long and 2 m high.
The town had five gates, three of which were located in the eastern part of the settlement. Still we can see the remains of white buildings and the mausoleum. In early medieval historical sources we can fine the other name of the town - Kufen.
To the west there is a Mausoleum Chugundor Baba the end of XI - the beginning of XII centuries, till I half of the XI - XII centuries on the territory of the settlement was erected a fortification which in XI - XII centuries converts into the flourishing town Abiverd.
In early medieval sources the town-s name was Kufen. 
Authority:
On materials of information department of the State committee of Turkmenistan on tourism and sport. "Religious and spiritual monuments to Central Asia". Author M. Hashimov. Saga publishing house, 2001.
Photos:
Alexander Petrov.