Chatkal Range.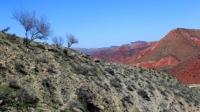 Group Cultural Tours Khiva.
"Beauty is a manifestation of secret natural laws, which otherwise would have been hidden from us forever"
Johann Wolfgang von Goethe.
Travel style – group individual tours Bukhara.
In the north-east of the country, along the left bank of the river Chatkal passes the last branch of the Talas Alatau - high snow Chatkal range (3500 - 4500 m) , divided into a number of spurs. The ridge serves as a watershed between river basin Chirchik and Akhangaran , Kasansay, Gavasay, Chadaksay et al.
This ridge with numerous ridges, indented by deep valleys, and forms a complex by extensive relief massif length of about 200 km. Passes through Chatkal ridge paved roads connecting Tashkent oasis Akhangaran and Fergana valleys. 
The highest peaks of the Chatkal RangeWithin the Republic - Karakush (3864 m), Big Chimgan (3309 m), Kyzylnura (3533 m) and the mountain plateau Maydantal(2000m), a plateau Pulatkhan (2744 m), the plateau Akhangaran (2000 m). 
Here is Chimgan tourism and recreation zone and Chatkal State Biosphere Reserve .
Authority:
http://orient-tracking.com
Photos
Alexander Petrov.