Buldyrty river inn Aktobe region.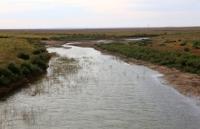 Tourism in the West Kazakhstan region.
"A beautiful mirror by the waters,
But the wind was not merry with the river,
A quarrel will rush and leave
You just have to wait for peace."
Anatoly Bolutenko.
A trip from Ural to Atyrau.
The Buldyrty River flows parallel to Kaldygayty, approximately 45 km northwest of it. Its length is about 120 km. The sources of Buldyrty are located at the chalk mountains near the sources of Utva, the mouth is in the salt flats of the Zhaltyrkol lake.
In the upper reaches of Buldyrty is the Karaagash sand massif bordered by swampy birch forests and aspen forests. Olenti is the next river crossing the side zone of the Caspian Sea and the Cretaceous of Podural. Its length is also about 120 km.
Merging with its right tributary of the Shiderty, Olenti turns south and gets lost in the flood system of the neighboring rivers Buldyrty and Kaldygaity. In spring, these rivers discharge water into the vast flat Baiguttinsky lowland, usually closed, but occasionally spills to the Urals.
The extreme north-west of the Cretaceous Poduralia, which abuts against the Ural River near the city of Uralsk, is irrigated by tributaries of the Shalkar Lake - Isen'ankaty, Sholakankaty and the last tributary of the Urals by the Barbastau River, which also originates at the foot of the Cretaceous mountains.
Authority:
A.A. Chibilev. "The Ural River." Leningrad. Hydrometeoizdat, 1987.
Photos
Alexander Petrov.