Aydarkhan reservoir.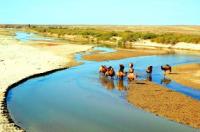 Beach rest on reservoir of the West-Kazakhstan area.
"Everything in excess is opposed to nature" 
Hippocrates.
Amateur on the cities, mountains, parks Kazakhstan.
Aydarhanskoe reservoir is located on the border of the village Furmanova in Zhangala region West Kazakhstan region. The reservoir was created in 1974 on the river Bolshoy Uzen. The catchment area of 12 700 square kilometers.
The reservoir area is 557 square kilometers, a length of 21 kilometres and its maximum width is 4.5 kilometers, the depth of 9.1 m, reservoir volume 52,3 million cubic meters. The coastline is 80 kilometers. Area of basin irrigation to 14.6 thousand hectares.
Aydarhanskoe reservoir is fed by water from the Volga river by Saratov channel. In the flood with Aydarhanskoe reservoir water goes from the village Kaztalovka to Jangalu village. An avalanche of water constrains Aydarhanskoe reservoir.
Authority:
The brief encyclopedia Kazakh SSR. The Nature, Alma-Ata, 1990. Bakirov.