Blue bay on the Caspian.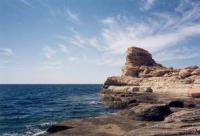 Individual and groups tours Mangyshlak.
«Nature does nothing without purpose or uselessly»
Aristotle.
Travel Mangyshlak Guide.
Blue Bay is located on the southeastern coast of the Caspian Sea in the southwestern part of the Tupkaragan Peninsula in the Tupkaragan District of Mangistau Oblast. 15 kilometers south of the Blue Bay, on the road along the coast, there is Cape Sagyndyk.
33 kilometers north of the coast is the small village of Kyzyluzen. A small sea bay with a sandy coast, 546 meters long from south to north and 123 meters wide is formed by the converging mouths of the canyons of Tulkili and Uzinkudyk.
At the beginning of the XXth century, there was a fishing team called Tulkili, which in Kazakh means "place for a fox." On the south side of the bay on a rocky ledge, the remains of a small fortress wall of the medieval era have been preserved.
On the northern plateau there are the remains of a road left by the wheels of numerous carts - arb in soft limestone. There is information that fish were sold on arbs along the coast for sale in Fort Shevchenko. About thirty years ago, many residents of Aktau dreamed of visiting or relaxing on a small beach in the coastal waters near a rocky plateau. In those days, for them, stories about the "Blue Bay" were like fabulous legends.
Wild beach, unusual color water, mysterious rocks with grottoes, "Devil's finger", spearfishing. To get to it, you need to leave Aktau in the direction of Fort Shevchenko, and at the 69th kilometer you should turn left and go along a dirt road, about 10 km, until the buildings in front appear.
Passing them, you will find yourself on the shore of the bay. Be sure to visit the right and left banks of the Blue Bay. Go to the rock Devil's finger, which, like a medieval castle stands in the sea. If one of the old-timers will be with you, he, of course, will convince you to explore the right bank in order to find the only point where you will see a profile of a person against the blue sky.
The stone profile is very familiar. If you move to the right, to the left, the expression on the face of a stone person will change. Either he will make eyebrows, then he will blur into a smile. But now you took a few steps to the side, and the image fell apart into separate blocks of stone.
If you arrive in the Blue Bay in spring, you will be amazed by the abundance of flowering plants, if in autumn - here you can pick berries and dry plants. You can meet turtles, monitor lizards, snakes living here, see grazing horses, running gazelles and saigas, flying swans, geese and ducks.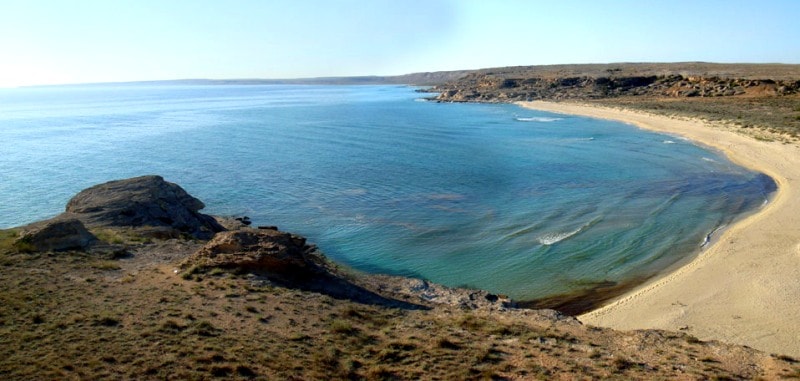 Authority:
Andreyi Astafyev. Aktau town.