Basibek mausoleum.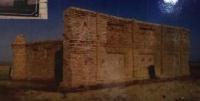 Photo tours across Kazakhstan.
"Faith consists in recognizing the arguments of the soul; disbelief is in their denial"
Emerson W.
Monuments of Kazakhstan.
The Basibek mausoleum is located on the right bank of the Syrdarya in the Aral district of the Kyzylorda region, 4.8 kilometers north-east of the Akkulak village and 12.2 kilometers west and slightly south of the Amanotkel village.
The monument rises on the top of a gentle hill on the right bank 1.3 kilometers north of the Syrdarya river. The Basibek memorial fence represents the traditions of buildings in the mouth of the Syrdarya River and the valley of the Kuvandarya River, which are characterized by a combination of entrance and burial premises, which developed in domed and non-domed versions.
The Basibek memorial (the Alim clan) was built by the local craftsman Kazakpay, according to a resident of Kulseit Orazaliev, born in 1913. The fence was erected from baked bricks and oriented with corners to the cardinal points.
Overall dimensions of the fence in terms of 8 x 10 meters, the height of the building is up to 5 meters. The monument consists of a corridor-shaped chamber and a burial fence, inscribed in a prismatic volume. The mausoleum is made of a quadrangular, domed front wall.
The corners are located in the form of towers with a small dome on the roof. There are features in brick modeling. There is an entrance door from the side of the mausoleum. It was built in the region by the famous historical figure Bakhytbek.
The mausoleum was built on sand without foundations. Basibek Shuakbayuly was born and lived in 1818 - 1894 from the tribe of Kara Altynbay. According to the elderly elders and descendants, he was a very intelligent and judicious person.
The monument is among the monuments of urban planning and architecture, on the balance of the akim's apparatus of the Amanotkel rural district. Cadastral number 10-147-053-355.
Geographic coordinates of the Basibek mausoleum: N46 ° 06'11.02 "E61 ° 23'12.32"
Authority:
https://sketchfab.com/3d-models/024--96b4f8571a8243d79ccd59c463c9099c
Alexander Petrov.
The photo
from the local history museum of the city of Aralsk.