Ancient settlement Sunak ata. Sygnak.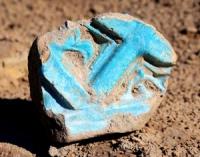 Kazakhstan – Silk Road Travels.
 "The town of Saganak was irrigated with water drawn from the Arys river, since at that time the Syr-Darya river ran along the Kyzyl-kum. 10 tons of people worked on the irrigation ditch from the Arys river, which is why it is named Tyumen-Aryk, after which the post station bears. Remains of the former irrigation ditch have been preserved: in Yany-Kurgan - Nazar-aryk, which is used by the inhabitants of the Sunak clan, near the Tyumen-Aryk station and Kara-Kul-aryk between them. But at the present time the water in the irrigation ditches comes only from the chigiri ".
Local historian and researcher V.A. Callaur. May 12, 1899.
Author's tour across Kazakhstan.
The settlement Sunak-Ata corresponds to the medieval town of Sygnak, which is located in the Zhanakorgan district of the Kyzylorda region on a hill 161 meters above sea level, 2.5 kilometers north-west of the village of Sunak ata and 18 kilometers east and slightly south of the regional center of Shieli in 1.2 km northwest of the Turkestan - Kyzylorda highway.
The ruins of the settlement occupy an area of ​​about 20 hectares. The area of ​​shakhristan, enclosed by a partially preserved wall with 15 towers, is about 10 hectares. Shakhristan is an irregular pentagon in plan, the north side of which is 250 meters long, the west side is 360 meters, the south side is 250 meters, the south-east side is 450 meters, and the north-east side is 350 meters.
In its southeastern part, there was a citadel with an area of ​​7.2 hectares. The area of ​​the suburb surrounded by an earthen rampart is about 13 hectares. The height of the fortress wall reached 7 meters. The towers had a circular shape and were grouped in three in each corner of the wall, protruding somewhat outward.
The entrances to the city were located on the western and northern sides. In the eastern wall, closer to the northeastern corner, an additional entrance to the citadel was organized, reinforced by two sections of walls protruding by 20 meters.
Remains of mosques, madrasahs, mausoleums, residential buildings have survived to this day. The city was equipped with a water supply and sewerage system. In the suburbs of Sygnak, piles of bricks and tiles have been preserved in place of destroyed buildings.
Geographic coordinates of the settlement of Sygnak: N44 ° 09'26.42 "E66 ° 57'31.58"
Authority:
Collection of monuments of history, culture and archeology of the Kyzylorda region.
Photos by
yAlexander Petrov.