Baltaly necropolis.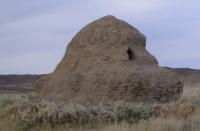 Central Asia nd Astana tours.
"Ancient aphorisms outlived centuries. Modern aphorisms can barеly survive from book to book" 
Ljupka Cvetanova,
Jeep tours to Korgalzhin reserve.
Baltaly necropolis is located on the right, high river bank Tersakan in 7,6 kilometers to the southeast from the settlement of Baytaly and in 10,5 kilometers to the northwest from the settlement of Mendesh (nowadays nonexistent).
The monument represents a number of the stone constructions of funeral character located in the territory of a burial ground. The necropolis is extended on the line the North-South. In total there are 35 designs from a tiled red stone, 4 barrows and about 50 stone constructions of the small size focused on the line the East-West.
Design No. 1 - a barrow with a diameter of 8,5 m, 0,35 m high. The embankment is put from the earth and a stone, in the center there is a construction the sizes of 1,2 x 1,6 m. The design No. 2 - a barrow with a diameter of 7 m, on the center is fixed a ring of a stone with a diameter of 3,2 x 3,1 m.
Embankment stone. The design No. 3 represents under a quadrangular construction the sizes of 4,1 x 2,76 m thickness of walls 0,65 m. From West side the aperture is fixed, the northern corner of a design is rolled.
A design No. 4 - a rectangular construction the sizes of 4,4 x 4,3 m. Thickness of walls is 0,9 m. In East side there is an aperture, 0,7 m wide. In a southwest part the design fell off. A design No. 5 - under the rectangular construction constructed of a red stone on the basis in the form of the base.
Basis sizes: 6,3 x 5,5 m. The sizes of walls 5,9 x 5,1 m put on the base. Thickness of the base is 1 m, thickness of walls of a design of 0,8 m. On corners of a design eminences in the form of the put stone (pyramid) are fixed. In east wall there is a pass.
The design No. 6 has under an oval form, the sizes of 3,9 x 2,3 m. Most likely the design had the dome form at the moment the top part was filled up in inside. The design No. 7 has under an oval form and the sizes of 2,7 x 3,5 m.
Authority:
The world Turkic congress the Center of genealogical researches at TURAN PRO Academy Scientific research institute of archeology of K. A. Akishev at ENU of L. Gumilev. www.tengrifund.ru