Bagt kyoshga in Ashgabad.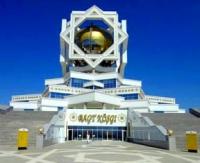 Tours in Central Asia and Turkmenistan. 
"Bagt Koshg wedding palace (turkmen Bagt köşgi) - opened in 2011. The Ashgabad wedding palace, is constructed by the Turkish construction company. Eleven-floor building more than 38 000 square meters.
Represents a three-stage construction which each party has an appearance of an eight-pointed star. The cube towering on big columns forms its top step and incorporates a sphere with a diameter of 32 meters – the symbolical planet Earth with the image of the map of Turkmenistan"
Eco Adventure tours Abroad in Turkmenistan.
Four entrances to the building symbolize four parts of the world. Internal furniture of rooms of the Palace are also executed in the Turkmen style. Six halls for solemn registration of marriage are a part of the center, each of which received the name.
Three wedding halls for holding festive actions, two of which are calculated on 500 and one on 1000 places. On the ninth floor of the Palace - in the central part of "sphere" - the Gold hall for weddings called "Shamchyrag" is placed.
In the Palace seven banquet rooms, 36 shops, two cafes, points of rendering all necessary wedding services, salons of wedding clothes, wedding design of cars, hire of jewelry, national jewelry, a photo salon and beauty shop, hotel on 22 comfortable numbers are also placed.
On the third and fourth floors - administration premises and archive. Under the building there is a closed parking on 300 cars. The dominating part of the palace of its remarkable design represents the globe with a diameter of 32 meters.
Which is in a volume lattice from six eight-beam stars connected among themselves by acute angles. The internal building plan includes six halls of registration newly married, three – for holding festive actions.
On the top floor of the building in the central part of a sphere at the height of 54 meters the rotating restaurant on 350 places was located. The original fountains, flower beds and even lamps in a form reminding the main volume of the building (a sphere in a fringing of eight-beam stars), various sculptural compositions – everything is subordinated to uniform design of this unusual construction.
Authority:
http://www.turkmenistaninfo.ru Ruslan Muradov.