Avenue of inspiration in Ashgabad.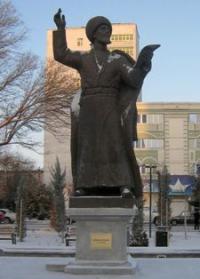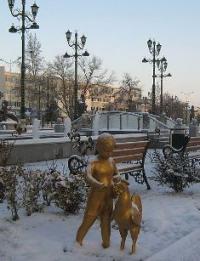 Walks on Ashgabad's streets.
Avenue of inspiration (turkm. Ylham seýilgähi) - an art and park complex, in the center of Ashgabat. The park is located between two central avenues of the capital - Gyorogla and Makhtumkuli.
Total area - 57 000 square meters. Against the background of century trees, along the artificial river, new saplings are planted, beds and tsvetochnik are broken, two cafes are equipped. In the park along paths the sculptural compositions representing outstanding Turkmen poets, thinkers, scientific antiquity and the present are placed.
Among them - Promise, Abu Said Maykhani, Mahmoud Zamakhshari, Al Farabi, Mahmoud al-Kashgari, Abu Ali ibn Xing, Biruni, Dzhakhanshakh, Al-Horezmi, Shamsetdin Merveri, Mahmoud Palvan, Nedzhmetdin Kubra and Kazi Ahmet.
The second part of a park exposition is devoted to outstanding poets of the XI-XIX centuries. Among them - Ahmed Yasavi, Yunus Emre, Dovletmmamed Azadi, Zelili, Seitnazar Sadie, Kemin, Yusuf Has Hadzhib Balasaguni, Not these, Fizuli, Alisher Navoiy, Omar Khayyam, Nurmukhammed Aandaleeb, Mollanepes, Annaklych Myatadzhi, Abdurakhmankhan and Bayram khan.
On the avenue devoted to outstanding persons of modern history of Turkmenistan Berda Kerbabayev busts, Aman Kekilov, Becky Seytakova, Cara Seytliyeva, Kerima Kurbannepesova, Ata Koushutova, Nurmurada Sarykhanova, Kurbannazara Ezizova and others are presented.
Authority:
On materials of information department of the State committee of Turkmenistan on tourism and sport.