Avaza - resort.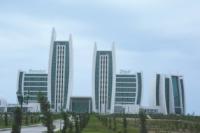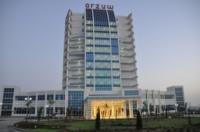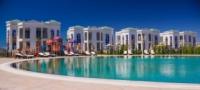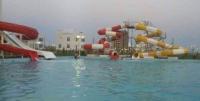 Rest on beaches in Avaza in Turkmenistan.
Awaza (or Avaza) is a touristic zone in Turkmenistan. It is located at the east side of the Caspian Sea, 12 km west of Turkmenbashi city. A travel report in the British Daily Telegraph criticized the project as "ill-conceived". 
n contrast to this view, Turkmenistan's foreign ministry announced, that Awaza would be transformed into a "Turkmen Las Vegas". Awaza - a resort in the east of the Caspian Sea, the national tourist zone of Turkmenistan, at 12 kilometers from  Turkmenbashi city.
"Awaza" - heavenly sea corner which stretches for 16 kilometers. 6 hotels of world class and health complexes have been built for today. It is planning to open 60 hotels of different categories.
Awaza is becoming a sea resort zone. Beautiful hotels are functioning on the territory of Awaza, standards-based pensions, health complexes, child health centers, sport centers, health spas, children's health centers, sports, cultural and entertaining centers.
7 kilometers canal was excavated on the territory of Awaza, and cozy restaurants and cafes are situated on both sides of the canal. Soon the construction of roofed ski complex is planning.
The ski center will be built on the area of 20 hectares. The roofed 1200-meters alpine skiing track for three trails under 8 meters sheer dome and at the depth snow cover of half meter to
ne meter will have a six-meter vertical drop.120 people can assimilate the ski art simultaneously here.
Especially original construction of the hotel complex – skyscraper in the form of the peculiar lighthouse on the mound island will reproduce the map of Turkmenistan. A huge aqua park with a sliding dome is being planned to built.
Architects are planning to finish the construction of Awaza by 2020. 
Authority:
On materials of information department of the State committee of Turkmenistan on tourism and sport.