Amangeldy Imanov monument.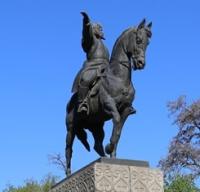 Visiting the capitals of Central Asia.
"Death with glory and honor is not a sacrifice, but a feat"
Konstantin Fedin.
Excursions along the Great Silk Road of Kazakhstan.
Monument to Amangeldy Imanov - a bronze monument to Amangeldy Imanov - an equestrian statue is located in Almalinsky district along Abylay Khan Avenue, in the park between Mametov and Makatayev streets.
It was installed in 1947 in the city of Alma-Ata opposite the Young Spectator Theater. Sculptor H.N. Askar-Sarydzh, architect T.K. Basenov. Monument to Amangeldy Imanov is one of the first monumental monuments in the city of Alma-Ata.
The monument is made of bronze. The pedestal is made of gray granite using small bushard technique with ornament. The height of the monument is 6 meters. Expressive volumetric details emphasize the movement of the figure.
Batyr's face is strong-willed, confident landing in the saddle. A distinctive feature of the monument is a harmonious composition and a clear silhouette. Amangeldy Uderbayuly (Imanov) (April 3, 1873 - May 18, 1919) is the leader of the popular uprising of 1916 against tsarism and an active participant in the establishment of Soviet power in Kazakhstan, a communist.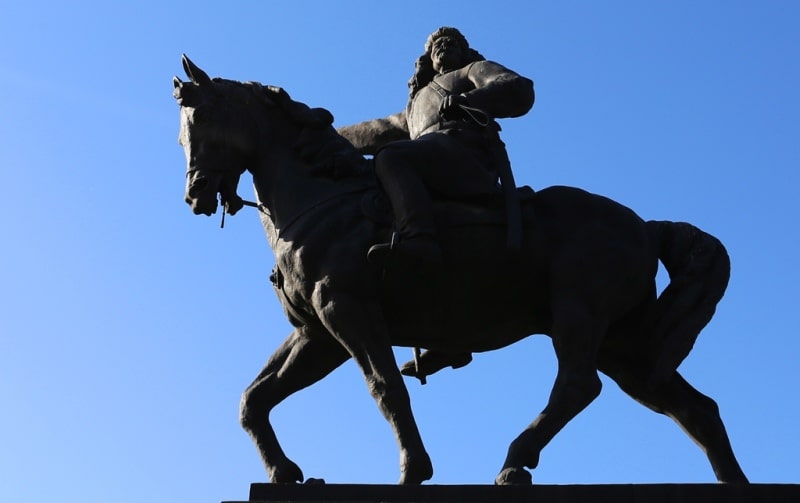 Literature:
Matveeva L.A. Monument to the "Warriors of Kazakhstan."
In the book: Monuments of history and culture of Almaty. The catalog of documents of the Office of Archives and Documentation and the Central Administration of the City of Almaty.-Almaty, Oner Publishing House, 2003, p. 183
Authority:
Vladimir Proskurin (Berlin).
Photos
Alexander Petrov.