Yaryk-depe ancient settl.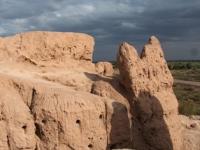 Tours to antique ancient settlements of Turkmenistan.
The antique ancient settlement Yaryk-depe located between the settlements of Meana and Chaacha in 5,5 kilometers, to the southeast the ancient settlement Altyn-depe, near Yylgynly-depe. In the plan has an outline of the wrong pentagon.
The external wall practically did not remain, in the south has an appearance of accurately expressed shaft up to 45 meters wide and with a height of 1 meter. From the southwest the ancient settlement is adjoined by even more massive ancient shaft stretched on several kilometers.
There is an assumption that this branch of a shaft Froze. The northeast region of the ancient settlement has a quadrangular citadel in the plan, the sizes of 130 by 100 meters with well noticeable crest of external walls.
It towers over the plain on 10,5 subway. The settlement of Yaryk-depe arose in the II - I centuries BC and probably represented the settlement as a part of Parfiya (Apavarktiken's area). During a time of the blossoming it occupied the space from 50 to 70 hectares.
In the III - V or IV - V century of century its territory is sharply reduced and one citadel functions, probably. The monument was investigated by archaeological group under the leadership of V. N. Pilipko.
Authority:
On materials of information department of the State committee of Turkmenistan on tourism and sport. "Religious and spiritual monuments to Central Asia". Author M. Hashimov. Saga publishing house, 2001
Photos:
Alexander Petrov.