Well Ukash ata.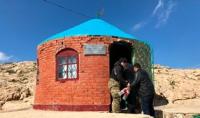 Trips on monuments of architecture Kazakhstan.
"The carefree gets fat even from water"
Kyrgyz proverb.
Monuments of architecture Kazakhstan.
The Ukash ata well is located on the southwestern slope of the Karatau ridge, 8.9 kilometers to the west and slightly south of the village of Abai (town administration of Turkestan), 9 kilometers to the north and slightly east of the village of Kumaylykas (town administration of Turkestan) 13.1 kilometers to the north-west of the village of Karnak on the territory of the Babaykorgan rural district, subordinate to the city administration of the town of Turkestan in the south-western part of the Turkestan region.
The Ukash ata well, about 22 - 25 meters deep, is located in a mountain crevice located 400 meters west of the mausoleum. A small structure in the form of a yurt was erected above the well. The water level in the spring is not constant (in many cases, the pilgrims are unable to collect water).
Nearby there is a tug (both) - a pole to which pilgrims tie ribbons. The well is credited with magical properties. A sinless person, lowering a bucket on a rope, will raise it with water, and a sinner - empty. If a stone falls into the water, then the Almighty will give this person some rare gift - a healer, writer, seer or musician.
According to the following legend, Ukash ata was a warrior and a very strong man. In these parts he preached Islam, and this aroused the hatred of his enemies. Having once found out that Ukash ata becomes vulnerable and helpless in moments of selfless prayers, the enemies decided to deal with him.
They caught him while reading namaz and cut off his head. According to legend, contrary to the laws of nature, the warrior's head rolled not down, but up the mountain and disappeared in a deep 25-meter rift, at the bottom of which a stream ran.
Since then, a sacred well arose on this place, its healing waters under the ground, according to legend, reach Mecca itself. But not everyone can drink water from a well. The lowered bucket often hits the ledges of the walls, and water splashes from it.
If someone manages to get miraculous moisture from the depths, this is considered a sign of a special disposition of higher powers.
Geographic coordinates of the Ukash ata Well: N43 ° 36'48.12 "E68 ° 15'31.64"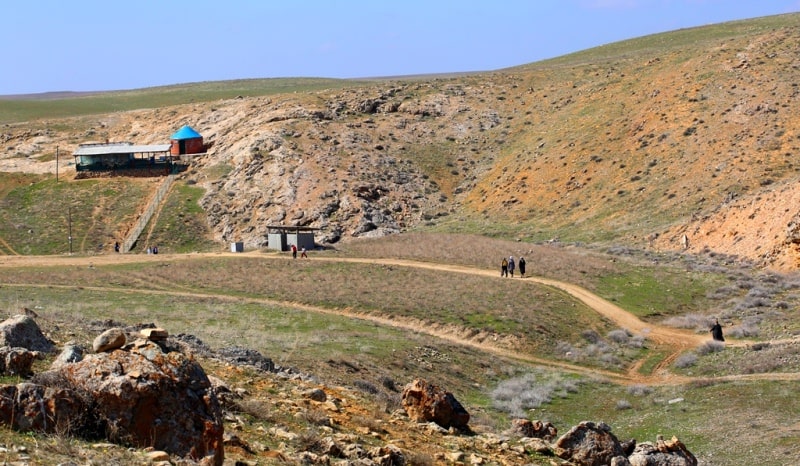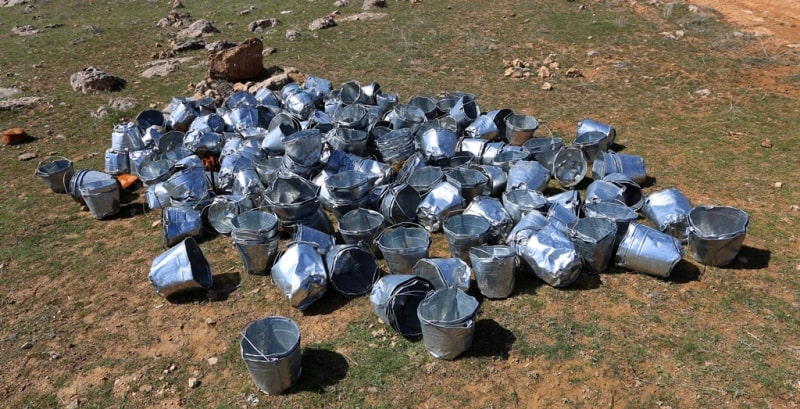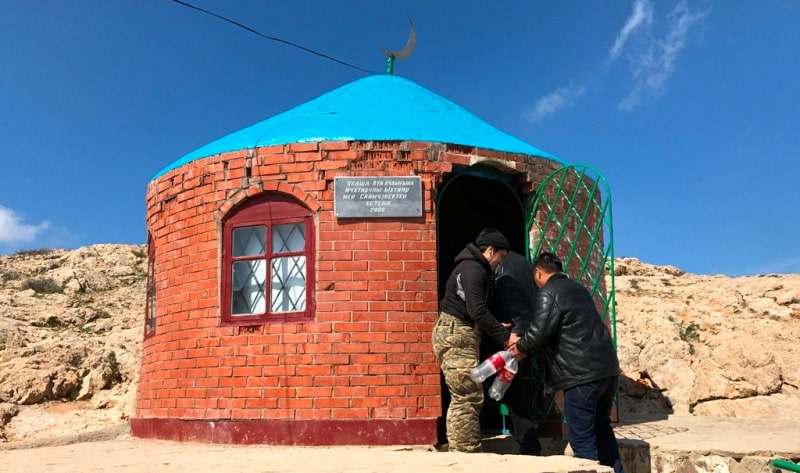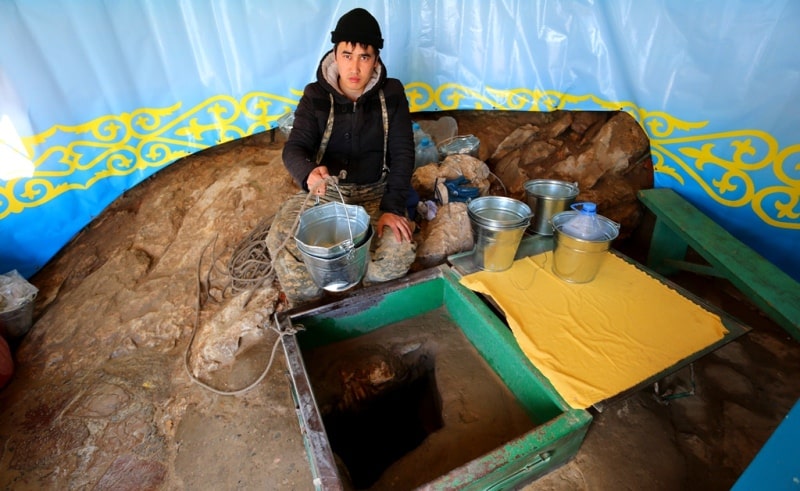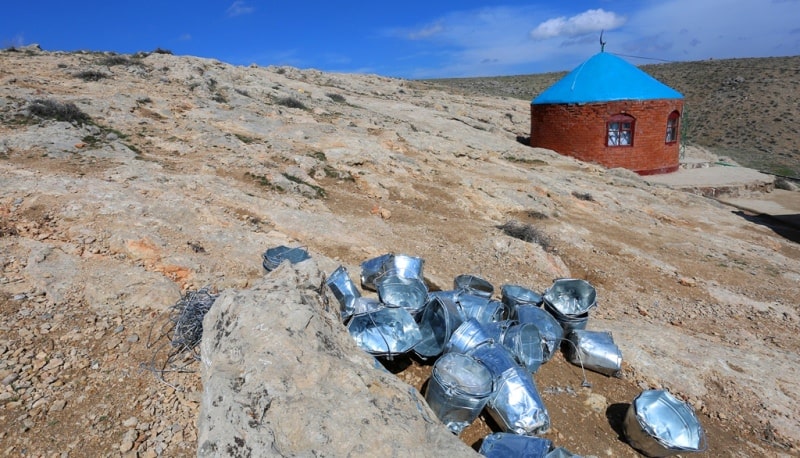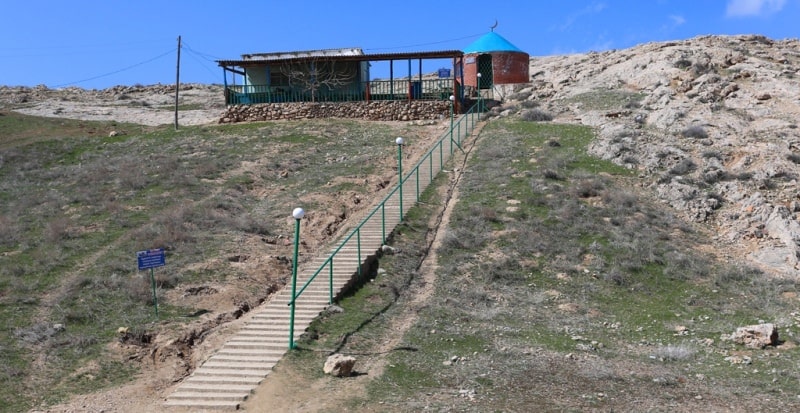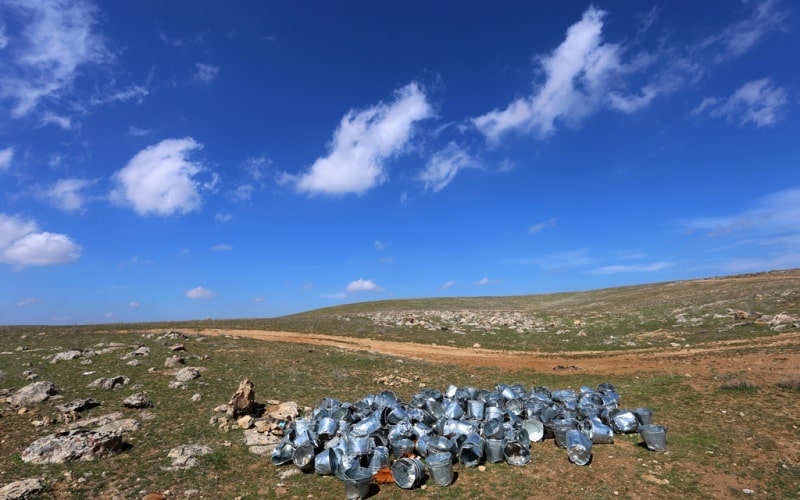 Authority:
http://azretsultan.kz/rus/mavzolej-i-kolodec-ukasha-ata-ih-h-vv/
https://ru.wikipedia.org/wiki/%D0%A
Alexander Petrov.
Photos by
Alexander Petrov.