Water sports complex in Ashgabad.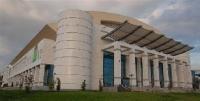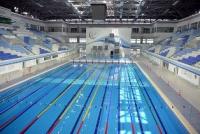 Sports complexes of Ashgabad.
«Real training happens with a lot of freedom. Not with so many restrictions»
"For the real trainings freedom is necessary" Olympic water sports complex (туркм. Olimpiýa suw-sport toplumy) - the large covered sports construction containing in itself the 50-meter swimming pool. It is located in Ashgabad.
The complex meets standards of the International federation On April 12, 2004 the president of Turkmenistan Saparmurat Niyazov signed the resolution according to which it was authorized to State committee on tourism and sport of Turkmenistan.
To conclude the contract with the Turkish firm "Gap Inshaat" for construction in the city of Ashgabat of the Olympic water sports complex worth 25 million US dollars, of 18,0 thousand square meters with improvement of the adjacent territory of 12,0 thousand square meters.
Construction to be begun in May, 2004. On December 8, 2006 with the assistance of the president Saparmurat Niyazov the complex was solemnly open. The white marble building with huge blue stained-glass windows is located on crossing of Garashsyzlyk Avenue  and Oguz Street of the khan.
Taking into account the adjacent territory the total area of the construction consisting of three cases connected among themselves makes 30 thousand square meters where the parking on 90 cars and the center of maintenance is also placed.
The block "A" has stands on 1700 places and the big water arena with swimming 50-meter the pool on 8 paths which can be transformed to two 25-meter pools for competitions of swimmers on "short water".
At a dock apron video cameras are installed, and the hall is equipped with the special musical and light equipment. For divers there is a certain pool, with towers and springboards, equipped with the elevator.
In the main case of a complex rooms for rest of athletes, classes for theoretical occupations, judicial rooms, massage offices, a sauna, locker rooms for athletes and wardrobe for the audience are placed. In the building the press center, cafe, bars and the dining room on 200 places is also placed.
In the two-storeyed block "B" the hall of all-physical training, administration of a water sports complex and economic services is placed. The third block of a complex is equipped real with aquapark with the 25-meter pool and the small pool for children equipped with "hills".
Authority:
On materials of information department of the State committee of Turkmenistan on tourism and sport.