Urgench town.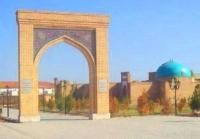 Tours to Urgench.
"Since the sites of the Suyargan culture, as well as part of the Tazabagyab ones, are located on takyrs lying above the buried dunes, there is reason to believe that around the middle of the second millennium BC. er drainage of this region occurred, possibly related to the Amu Darya breakthrough through the western Sultan-Uizdag segment and the formation of the modern riverbed. Perhaps due to these changes in the geography of the upper delta of the Amu Darya, the colonization movement of the southern tribes that encountered the tribes of the South Korean lake neighborhoods and, judging by the signs of Tazabagyabian influence in the ceramics of Suyargan and later Amirabad culture, assimilated with them, is connected with its secondary settlement. There is every reason to believe that these tribes constituted the eastern branch of the peoples of the Japhetic language system, to which modern Caucasian peoples belong (Georgians, Circassians, Dagestanis, etc.) and to which the creators of the ancient civilizations of Dvorechye, Syria and Asia Minor belonged"
S.P. Tolstov. In the footsteps of ancient civilian civilization. Part II. Ch. V.
Photo tours of the cities of Khorezm.
Urgench is the administrative centre of Khorezm viloyat, built on site of trading village of Khiva Kingdom with a petty fortress of XVII c. It is situated on the left bank of river Amu-Darya.
Modern Urgench is a big industrially and culturally developed centre. The region is the most northern area of cotton sowing in the world; nevertheless crop yield of cotton is the highest in the republic.
Viloyat is a leading supplier of rice in Uzbekistan; also it has the best seed lucerne in the world. Khorezm sorts of melons and watermelons are very tasty and juicy. In addition, sericulture is developed here from ancient times.
in Urgench (139 thousand people).
Authority:
«Khiva city and legends» the tourist guidebook across Khiva".