Underground mosque Aulie Kumshyk ata.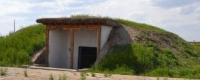 Sacred monuments of Turkestan.
"For each of us, life has a reserve of grievances, calamities and bitterness in every hour"
Maarri al-Maarri.
Mosques of Turkestan.
The underground mosque Aulie Kumshyk ata is located along B. Batyrbekov street 4a, in the square of B. Sattarkhanov and Alkozha ata streets, 871 meters to the east and slightly south of the mausoleum of Ahmed Yasavi in ​​the town of Turkestan, Turkestan region.
Religious and spiritual monuments are treasures of the history of our country in which the mysteries of the centuries are hidden. The construction of an underground mosque in the southern regions of Kazakhstan began in the X - XII centuries.
One of them, the underground mosque Aulie Kumshyk ata, belongs to the XII - XIX centuries, belongs to the state historical and cultural reserve-museum "Azret Sultan". According to myths and stories among the people, Aulie Kumshyka ata highly valued Yasavi as his teacher.
Yasavi, like Kumshyk ata, strictly adhered to an ascetic lifestyle, and spent the rest of his life, worshiping Allah in an underground mosque. The height of the mosque is 3.4 meters, the length is 15.7 meters, the width of the domed room is 3.5 meters.
There is a rectangular opening at the base of this ritual structure. The notch serves as the entrance door to the underground mosque, and connects to a narrow zigzag corridor. A corridor leads to a circular room and it is the main room of the underground mosque.
A room with this basic shape of a circle ends with a square last room. The ceiling of the circular room is domed, and the square room is covered in a tent shape.Small cavities for candles are made on the walls of the premises.
Like the main rooms, the curved corridor is made of burnt bricks. In the middle of the corridor there is a well-shaped opening for lighting. In 1972 - 1973 archaeological research was carried out jointly with the Institute of History, Archeology and Ethnography of the Kazakh SSR and the Ministry of Culture of the Kazakh SSR.
In 1985, renovations were made. In 2013, the mosque was restored, the inside was mothballed, and the upper part was closed. In 1994 it was taken for consideration by the state in the collection "Chronicle of historical and cultural monuments of Kazakhstan" in the South Kazakhstan region under number 590.12.
It is a monument of republican significance.
Geographic coordinates of the underground mosque Aulie Kumshyk ata: N43 ° 17'42.01 "E68 ° 16'52.03"
Authority and photos:
http://azretsultan.kz/rus/podzemnaya-mechet-aulie-kumshyk-ata-hii-v/