Umbar Dere gorge.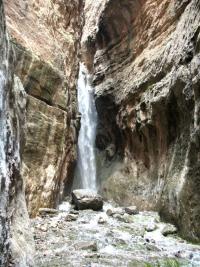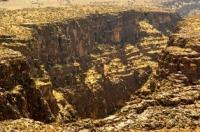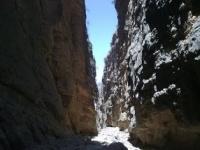 Walk to waterfall Umbar in mountains of Koitendag.
                                                                                  "The mountains are calling and I must go"
John Muir.
Walk to gorge Umbar Dere.
Not far from the plateau of the Dinosaurs (Khodjapil tracts)  there is a beautiful and amazing gorge Umbar Dere with a waterfall of 27 meters high. The gorge is in the mountains of Koitendag, Turkmenistan (in translation from  Turkmen "impassable mountains").
When the snow melts and the spring waters calm down, you can take a walk to the Umbar  waterfall. It should be visited until September,  as in September the waterfall dries up. It takes a walk through the valley between the two mountain ranges to get to the narrow gorge Umbar Dere.
The winding trail leads to the waterfall. Local mountain peaks that rise above the gorge are composed of white Cenomanian limestones of the Cretaceous period. Near the waterfall there is a pistachio grove at an altitude of about 1200 m.
One can get to the waterfall through this grove as well. When the stream is full-flowing, the rumble of the waterfall is heard from afar. The rocky path leads to a black crevice in the mountain range - this is the Umbar waterfall.
Magnificent waterfall is  27m high, it falls from the 30m high stone that blocks the crevice. It takes about  500 meters to get to the waterfall. The Umbar waterfall is framed with algae, what makes it look more mysterious and more beautiful.
In addition the legend exists about the waterfall. It says about the warrior Umbara, who jumped over the gorge and hid from the enemies under the streams of water. The crystal stream of Umbar is not only a life-giving moisture, but also an extraordinary sight.
It is worth doing this walk along the gorge, so that sheer rocks show their beauty to you.
A source:
Alexander Petrov.