Tulipa Greigii.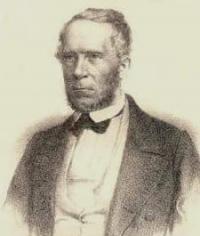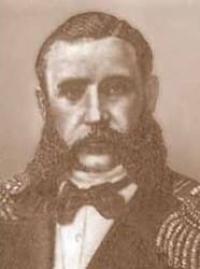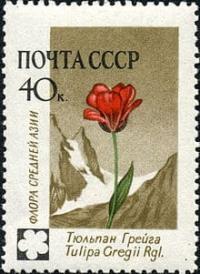 Excursions behind tulips in Kazakhstan.
"Melodies of the steppe colored sounds -
Tulips yellow-red bloom.
They won't be ripped off by commercial hands
And beauty will not be sold into slavery"
Ivan Miroshnikov.
Floristic tours in Kazakhstan.
Historical background of Tulip Greigii. Described by E.L. Regel from the Karatau mountains, initially as a variety of the Altai tulip (Tulipa altaica var. Karatavica, 1868), then, in 1873, as an independent species. Named in honor of Samuil Alekseevich Greig (1827 - 1887) - President of the Russian Society of Horticulturalists in St. Petersburg.
First tested in 1872 in St. Petersburg. In 1870, he proposed the idea of creating the Admiralty Garden in St. Petersburg for the 200th anniversary of Peter I. Work began in July 1872, the executor of the idea was the St. Petersburg botanist E. L. Regel. In 1876, Samuil Alekseevich Greig was elected an honorary member of the St. Petersburg Academy of Sciences.
A brief description of Greigii Tulip. Bulb oblong-ovate, 2-4 cm in diameter, with reddish-brown leathery scales. Stem up to 50 cm tall, peduncle fluffy. Leaves with dark purple streaks, including 4, less often - 3 or 5. The flower is exquisite goblet or cup-shaped, up to 10 - 12 cm tall, the outer tepals are pointed at a fluffy tip.
Coloring - most often red, sometimes orange, bright yellow, light cream. The bottom of red forms is black or yellow, often in light forms on the inside of the tepals there are red or crimson spots. Filaments and anthers are yellow, blackish or maroon.
The fruit is up to 8 cm long and 2.5 cm wide, the number of normally developed seeds is up to 313. Reproduction is seed, very rarely vegetative.
Phenology of Tulip Greigii. Blossoms from early April to early June, bears fruit in June - July. In the international classification, varieties of this species are combined into a separate class "Greig Tulips". Known natural forms up to 70 cm tall, natural terry and white-flowered forms and natural hybrids with Kaufman's tulip.
An indispensable feature of all forms and hybrids, natural and cultivated, is a pattern of dark red longitudinal stripes, strokes and spots on the leaves. In culture, Greig's tulips bloom early, but later than Kaufmann's tulip. This class includes the tulip with the largest flower - 'Orange Giant Sunset' (2008). With a stem height of 20 - 30 cm, the flower height of this variety is 20 - 25 cm.
In 2013 - 2014, Dutch farms cultivated 97 varieties of this class, which together occupied about 1% of the plantation area.
Ecology of Tulip Greigii. Piedmont plains and trails of mountains, clayey, fine-earth, stony-rubbly slopes, up to 2400 m above sea level.
Distribution of tulip Greigii in Kazakhstan. From the northern deserts (near Kyzylorda) along the mountains and trails of the Tien Shan to the Kurdai pass (Zhambyl, South Kazakhstan and Kyzylorda regions).
Cultivation of Tulip Greigii. First tested in 1872 in St. Petersburg. It is grown up in botanical gardens of the CIS countries and Western Europe (Holland, Germany, England, etc.). In Kazakhstan - in Leninogorsk, Karaganda and Almaty (since 1937). In our experiment, it is stable in culture; seedlings bloom for the first time in the fourth year of life.
Practical significance of Greigii tulip. The bulbs are edible. In Uzbek and Kazakh folk medicine, petals are used (for headaches) and fruits (for lung diseases). Widely used in breeding. In 1877 he was awarded a first-class diploma in Holland.
The first 15 varieties were obtained already in 1889, by the end of the 60s. XXh century - 286 varieties. In natural populations, spontaneous hybrids with T. kaufmanniana and T alberti are not uncommon. The tulip bulb lies at great depths.
Protection of Tulip Greigii in Kazakhstan. Listed in the Red Book. It is protected in the Aksu-Dzhabagly nature reserve, the Berkara botanical reserve (Zhambyl region) and the Krasnaya Gorka specialized reserve (Tyulkubas district, Turkestan region.).
Authority
"Tulips of Kazakhstan". Almaty, LTD "Almatykitap baspasy". 2010, 272 p. Illustrated.
Interesting about Greigii Tulip.
Redbook weed.
Of course, it could not do without human activity and the current political situation. This phenomenon is associated with the collapse of the USSR. After 1991, many agricultural fields with the original growth of these tulips among wheat were abandoned for many years.
The discarded seeds fell into the cultivated soil and the young plants successfully germinated their bulbs to a depth below the plowing level. It takes 5 - 10 years for a tulip to reach adulthood. For the first time, this phenomenon was noticed in 2010 on untouched deposits in the Sub-Karatau Plain in the area with Chayan.
Later, information began to come in from other places. The fields in the Araltobe region began to be returned to use about 5 - 6 years ago. Of course, by that time they were already thoroughly occupied with tulips. A feature of this population is the almost complete absence of young individuals and this is due to the annual reclamation after harvesting.
For comparison, we examined nearby wild populations, where the age structure contained young plants of different ages. Tulips from these fields respond with great gratitude to reclamation, and some of them grow into real monsters up to 12 cm. This is how the red monument of a bygone era turned out.
Authority:
Vladimir Kolbintsev.
https://forum.plantarium.ru/viewtopic.php?id=111339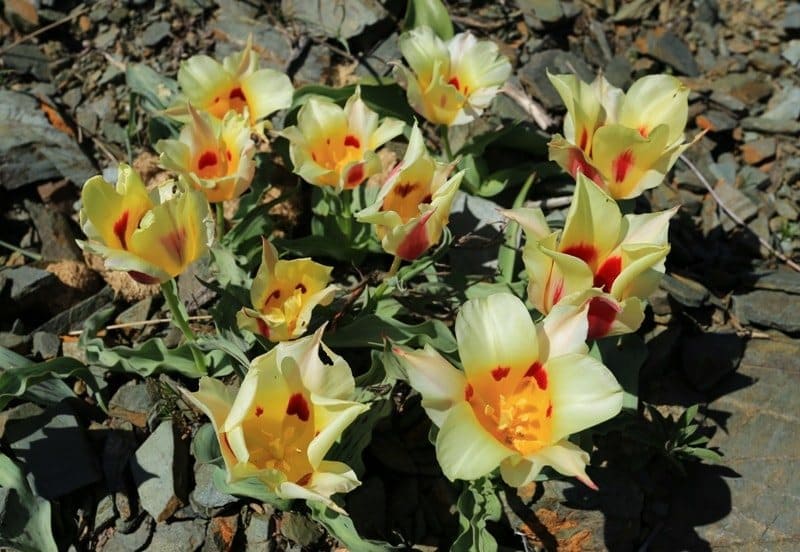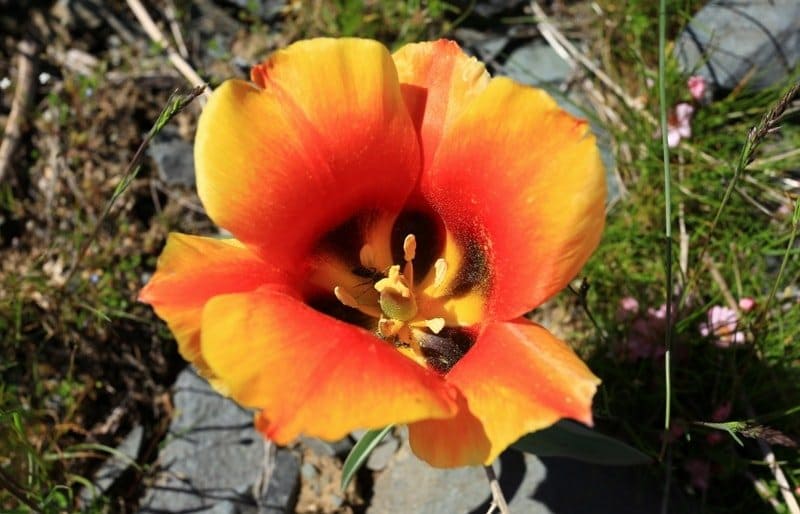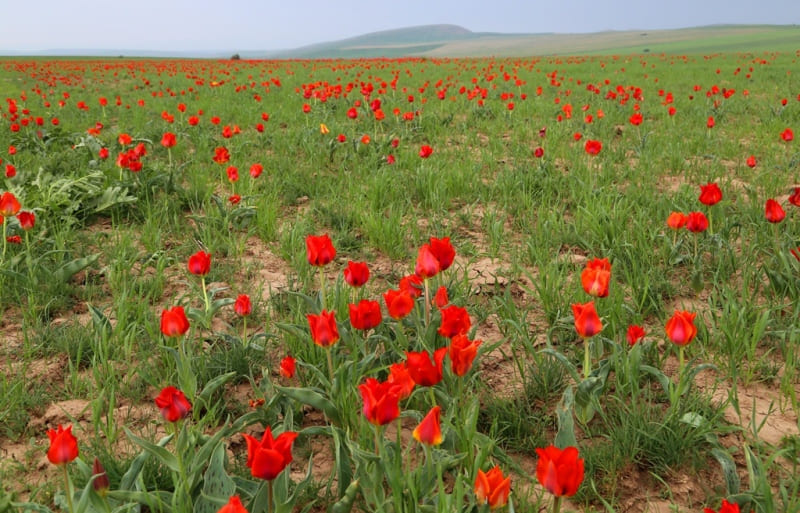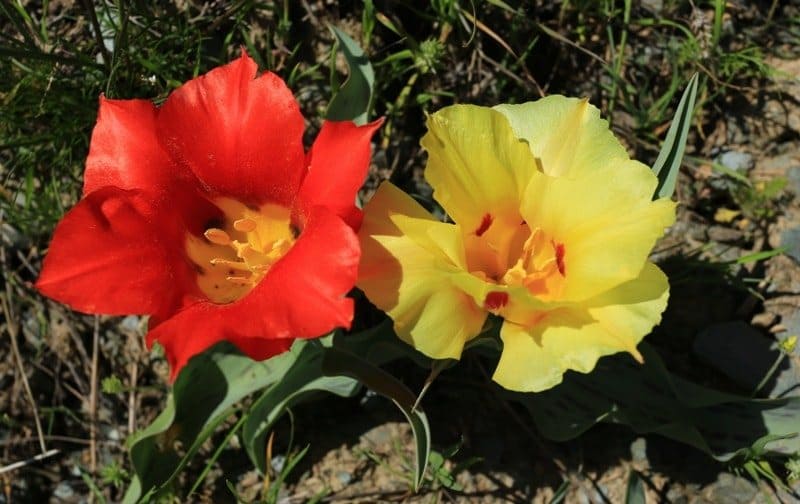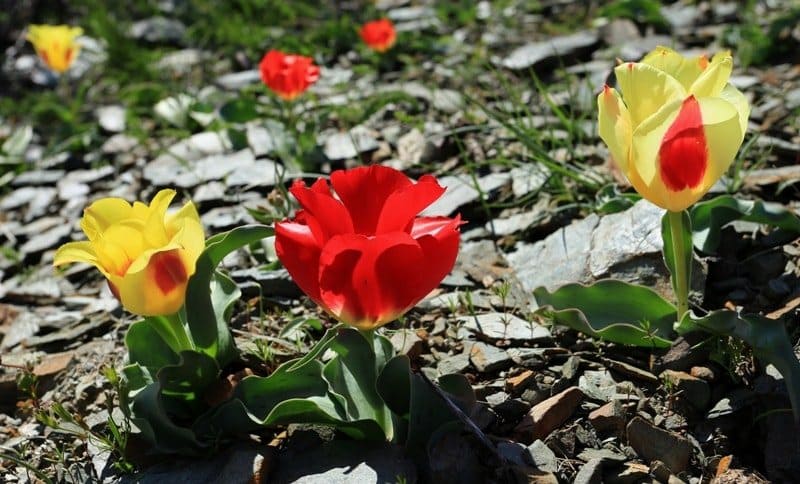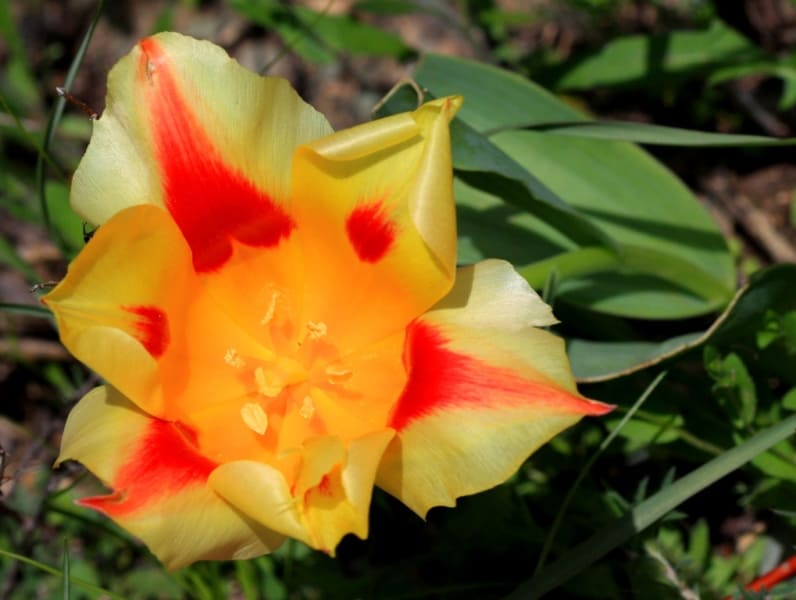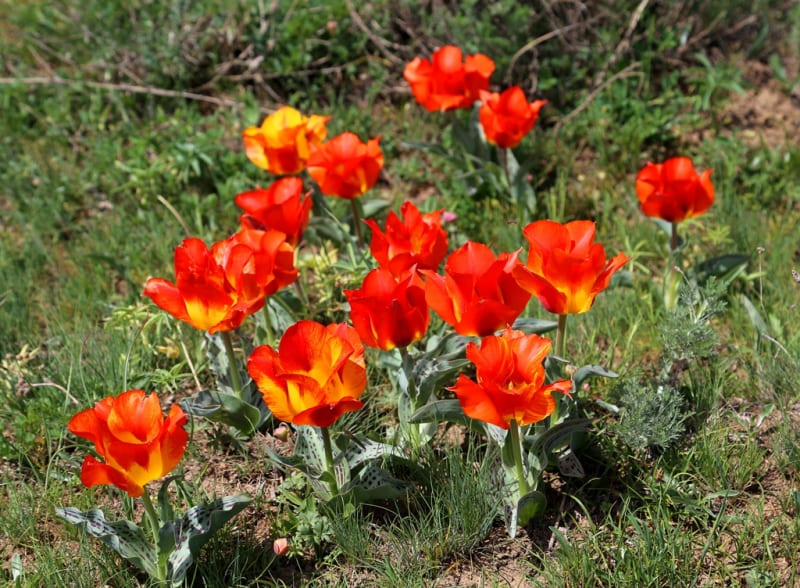 Photos by
Alexander Petrov.