Tomb of saint Akata Baba in Sairam.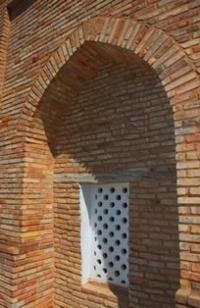 Architectural attractions of Sairam.
"I will defend the absolute value of Mozart over Miley Cyrus, of course I will, but we should be wary of false dichotomies. You do not have to choose between one or the other. You can have both. The human cultural jungle should be as varied and plural as the Amazonian rainforest. We are all richer for biodiversity. We may decide that a puma is worth more to us than a caterpillar, but surely we can agree that the habitat is all the better for being able to sustain each" 
 Stephen Fry, The Fry Chronicles.
Historical Monuments of Sairam.
At the exit from the northern gate of Sairam in the village of Sairam in the Sairam district of the Turkestan region in the Khankopir district, there is a relatively small mazar of Akata. Its dimensions are 4 x 5 m, height - 5.5 m.
The dome is faced with sheet white tin. The first mausoleum, erected in past centuries, collapsed. The modern one was built in 1995 at the expense of the residents of Sairam. The real name of Akata is Shahabiddin Isfijabi, popularly known under the first name.
Akata Baba lived between the X and XI centuries and was one of the prominent scientists of that time. As historical books testify, Shahabiddin Isfijabi became his contemporary Khoja Ahmed Yasawi a guiding mentor who was distinguished by high education and deep wisdom.
This high mark, given several centuries ago, speaks of the enormous knowledge and greatness of the teacher's gift of Akat Baba. Constantly enlightening his contemporaries and students to the ideals of goodness, culture and enlightenment, he knew his people early and, preaching the Islamic religion with Baizawi, became his spiritual leader.
Authority:
"Code of monuments of the South Kazakhstan region." Architectural and archaeological heritage of the South Kazakhstan region. In the framework of the regional program "Cultural Heritage". http://www.farsah.kz
Photos
Alexander Petrov.